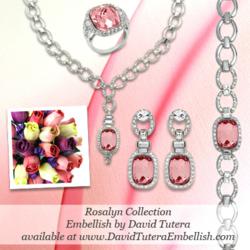 New York, New York (PRWEB) February 04, 2013
Wedding and event planner extraordinaire David Tutera has debuted a special new collection of romantically-hued fashion jewelry just in time for Valentine's Day. The Rosalyn collection debuted on the David Tutera Embellish website today featuring Swarovski crystals (http://www.davidtuteraembellish.com/catalogsearch/result/?q=rosalyn) and includes necklaces, bracelets, earrings, and rings. The Rosalyn pieces will embellish any bridal look with a bright pop of color, but is designed to also be cherished and worn as fashion jewelry, day or night.
With styles featuring colored stones available in pink, purple, blue, and white, the Rosalyn collection is an inspired addition to the Tutera's signature aesthetic. The David Tutera Embellish collection launched just six months ago in August 2012, and has received an outpouring of praise from brides, wedding parties, and fashionistas alike.
Due to the popularity of the David Tutera Embellish collection, licensor Combine International, Inc. is also announcing plans to grow the brand with an expansive wholesale program. Beginning now, the David Tutera Collection will be available for wholesale sales to bridal boutiques and special occasion stores – giving shoppers the luxury to view the quality and brilliance of the jewelry in person. For wholesale inquiries, please email: sales (at) davidtuteraembellish (dot) com.
The Embellish by David Tutera collection consists of over 100 individual styles with many pieces offered in an impressive array of colors and lengths to accommodate the preferences of any bride and her wedding party. The collection ranges from $15 - $350 and is available for purchase by visiting http://www.davidtuteraembellish.com.
For PR inquiries, please contact:
Caitlin Shockley
Mehta Media Group
646.584.2707
caitlin (at) mehtamediagroup (dot) com
About David Tutera
Awarded by Life & Style magazine as the "Best Celebrity Wedding Planner," David Tutera is a leading wedding and entertaining expert and TV personality. Known for transforming the ordinary into the extraordinary, Tutera is the author of seven popular books on the topic and is the host of the hit primetime show, "My Fair Wedding" on WE tv. http://www.DavidTutera.com
About Combine International, Inc. and CITG Capital
The partnership is funded by CITG Capital and manufactured by its portfolio company, Combine International, Inc. The company was founded in 1970 and has grown to be one of the top ten jewelry manufacturing companies in the U.S. Combine International has the ability to service major jewelry organizations and currently manufactures for and services over 2,200 retail stores and numerous online web properties. http://www.citgcapital.com http://www.combine.com