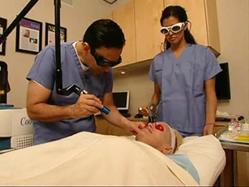 The precision available with laser technology puts this treatment at the forefront of modern skin care."
Los Angeles, California (PRWEB) February 01, 2013
According to an article titled "The New Wave" in the January 2013 issue of New You magazine, a new generation of skin resurfacing lasers has arrived to offer improved results with greater safety and less downtime.
Laser resurfacing, a highly precise anti-scarring and anti-aging treatment, involves using a laser to remove unwanted skin cells layer by layer in order to attain younger, more flawless looking skin. Laser treatments are becoming increasingly popular because they are both effective and non-invasive.
Dr. Simon Ourian, Medical Director of Epione Medical Corporation in Beverly Hills, regularly treats patients with laser technology. He says, "The level of control offered by laser resurfacing is unmatched. The fact that we can be accurate to within a thirty-millionth of an inch speaks to how remarkable this technology is."
The depth of the skin to which the laser is targeted can be adjusted based on the patient's skin type and aesthetic objectives. Treatments to the most superficial skin cell layers offer a freshening up with the quickest recovery time. Deeper treatments that may involve a somewhat longer recovery time can be used to address pigmentation issues, fine lines, and wrinkles.
"I've been working with lasers for more than a decade," says Dr. Ourian, "and I've developed numerous techniques and treatment protocols. The results we can produce for someone with acne scars, for example, really give me great satisfaction."
During the treatment patients should expect to be numbed topically. Many equate the discomfort level as similar to that of a rubber band snapping against the skin. After treatment, while the skin is in the healing process, patients will be given detailed instructions on caring for their skin. Most importantly, patients are instructed to stay out of the sun and always use sun block to prevent abnormal pigment changes to their freshly resurfaced skin.
Dr. Ourian has been a pioneer in laser technology and non-invasive aesthetic procedures including Restylane, Botox, Juvéderm, Radiesse and Sculptra. These treatments are used for the correction or reversal of a variety of conditions such as acne, acne scars, skin discoloration, wrinkles, stretch marks, varicose veins, cellulite, and others. More information about laser skin resurfacing can be found on their website.