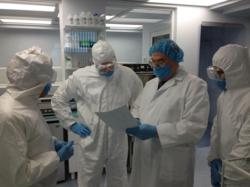 " A new life through Stem Cell Therapy"
Lutz, Florida (PRWEB) February 05, 2013
World Stem Cells, LLC. contract laboratory and clinic World Stem Cells Clinic a new adult stem cell laboratory being built in Cancun, Mexico to support Stem Cell research, stem cell clinical trials and stem cell treatments. This was accomplished by private funding in conjunction with World Stem Cells, LLC worldstemcells.com a US patient management company, Medicina Biocelular Avanzada , S.E. de C.V. a Mexican patient management company and World Stem Cells Clinic of Cancun, a Stem Cell treatment Clinic http://worldstemcells.com/clinic-team.html well known board certified hematologist and physicians , in Cancun.
The laboratory http://worldstemcells.com/stem-cell-laboratory construction is complete and operations were transferred to our new facility. This facility provides Cancun, and patient around the world, a state of the art cGTP laboratory to support their stem cell treatments in a beautiful, and positive environment. The lab was designed and constructed to provide one ISO7 lab, one wet lab along with a treatment area. This will allow stem cell retrieval, testing, culturing, selection, counting, analyses and sorting along with cryopreservation, without removal from the lab. This all in house capability reduces the possibility of contamination and errors. Dr. M. Abblitt will operate the Lab under cGTP guidelines and use the state of the art facility to provide quality care to her stem cell transplant patients. Our strict adherence to these established guidelines and policies guarantees the highest quality of clinical care and stem cell treatment safety for you.
Our clinic and laboratory and clinic were designed, built and are operated under the stringent guidelines as established by The International Cellular Medical Society (ICMS) and the US Federal Drug Administration's Good Tissue Practice (cGTP)regulations for pharmaceutical, biologics and clinical laboratories. Working under the guidelines set forth by ICMS world stem cells, LLC ( http://worldstemcells.com/ ) provides stem cell treatment for ankylosing spondylitis, autism, cerebral palsy, charcot-marie-tooth disease (cmt), crohn's diseases, copd, fuch's disease, guillain-barre' syndrome, hashimoto's thryroiditis, itp, kidney diseases, macular degeneration, lupus (sle), multiple sclerosis, pad, parkinson's disease, rheumatoid arthritis, scleroderma, stroke, ulcerative colitis
The laboratory and clinic will be engaged in private clinical trials, IRB's and joint studies with US companies, Mexican Educational Institutes, US universities and doctors to better understand the benefits and precaution to be taken in the stem cell treatment process.