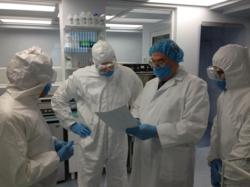 " A new Life through Stem Cell Therapy"
Lutz, Florida (PRWEB) February 07, 2013
World Stem Cells Clinic announces its new treatment for Anti-aging and the benefits and treatment procedures. Dr. Ernesto Gutierrez says his medical staff, clinical physicians, dermatologist, and anti-aging specialists at World Stem Cells Clinic http://worldstemcells.com/clinic-team.html will examine the patient and review all available medical records, radiology films, CT scans and other diagnostic information to assess the best stem cell treatment to maximize the patients' results. The medical Staff will then meet and confer with the research scientists for a pre-treatment planning meeting. This Stem cell treatment planning conference takes advantage of decades of the staff's clinical experience, the patient's current condition, available social support system, full review of the medical history as well as consideration of any recently published research literature on anti-aging stem cell treatments. In other words, the patient is provided a detailed, systematic and entirely unique treatment care plan for the patient's needs.
The Stem Cell Treatment at World Stem Cells Clinic takes 5 days to complete as the treatments are comprehensive and designed to maximize the benefits and safety a patient derive from the process.
World Stem Cells, LLC worldstemcells.com will provide patient management service assisting the patient on their flight, hotel, provide transportation to and from the airport, transportation to and from your hotel to World Stem Cells Clinic, provide 24/7 communication and be the patients ombudsmen.
FACTS ABOUT AGING
The science shows each minute, our body is dying, this is a fact. Each minute that passes by our body has lost 300,000,000 cells. That means the cells that die in our body equals the population of the United States, each and every single minute. As we age less and less of those cells are replace and we slowly decay. Doctors have see people over a 100 that if cut nothing happens as there are no cells to close the wound.
Thus Aging is a result of progressive depletion of stem cells, so the introduction of new stem cells and adjunctive treatments has the potential of slowing down or reversing this process. Stem cells possess a unique anti-aging effect by regenerating and repairing organs, improving immune function, repair damaged by stress, and various toxins we are exposed to in our daily life.
Stem Cells often thought of as futuristic, controversial and unknown, are now providing the latest anti-Aging, rejuvenation and beauty secret.
THE SIGNS OF AGING
The signs of aging generally start at 40, earlier for those who have burned the candle at both ends , smokers, have been under stress or in contact with toxic sustenance's and generally later for those who have had less stress, non smokers, exercised and eat properly but in the end we all will age. Some of the signs of aging are:

Poor concentration
Loss of memory
Loss of energy
General fatigue
Tiredness
Wrinkles
Age spots
General aches and pains
Loss of hair
Loss of skin texture
Insomnia
Reduced sex drive
Mood swings
Degenerative diseases
There are other sign and when a patient is there they will know it. Time to do something about it!
HOW CAN STEM CELLS THERAPY FIGHT AGING
When a person is young they have an abundance of stem cells, but as they age they have less and less stem cells to replenish the damaged and dying cells. With stem cell treatments they are replenishing the supply of stem cells to allow the body to the repairs and rejuvenation their body's organs including the skin. the stem cells injections help their body fill in fine lines, increase collagen and provide a younger looking skin. We have seen first of all an overall quality of life improvement and although it varies from person to person other improvements such as list below may be achieved;
General younger appearance
reduced age spots
Smoother skin texture
Fewer wrinkles
Less neck & back pain
Less fatigue and tiredness
Improved energy
Emotional and mental improvements
Reduce stiffness in joints
Reduction of the effect of degenerative diseases
Other benefits a patient may receive are:

Decreased level of Hemoglobin A1C
Decrease in Triglyceride levels
Decrease in Creatinine levels
Improvement in Renal (Kidney) Function.
Decrease in the Fasting Blood Sugars
Loss of neuropathy
Loss of pruritus (itchy skin)
Loss of nocturia (waking up from sleep to urinate)
Improved capacity for physical activities
Thickening of hair and quality (sometime color)
Increased libido
And lastly, the feeling of vitality and rejuvenation
Male or female, 30 or 80 all may derive benefits from stem cell therapy to provide themselves a better quality of life. Joint us at World Stem Cells Clinic http://worldstemcells.com/