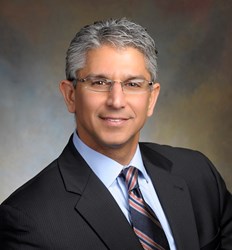 BERKELEY HEIGHTS, NJ (PRWEB) February 06, 2013
Summit Medical Group welcomes Allen M. Khademi, M.D., Director of Rehabilitative Medicine and Transition of Care. Board certified in physical medicine and rehabilitation, Dr. Khademi practices at the Group's 1 Diamond Hill Road campus, Berkeley Heights. He will oversee the medical and rehabilitation needs of SMG patients in postacute and long-term settings.
Before joining Summit Medical Group, Dr. Khademi was Vice President of Medical Affairs for Good Shepherd Rehabilitation Network, Allentown, Penn. He also was Chief in the Division of Physical Medicine and Rehabilitation and Medical Director of Stroke Rehabilitation Services at Lehigh Valley Health Network. Dr. Khademi was Medical Director of Shore Rehabilitation Institute, Brick, N.J. He also has been an associate attending physician at Ocean Medical Center, Jersey Shore University Medical Center, JFK Medical Center, JFK Johnson Rehabilitation Institute, all located in N.J., as well as at Staten Island University Hospital and Mount Sinai Medical Center, both located in N.Y.
Dr. Khademi is a former clinical assistant professor at the University of Medicine and Dentistry of New Jersey - Robert Wood Johnson Medical School and a former clinical instructor for Mount Sinai School of Medicine. He is a member of the American Academy of Physical Medicine and Rehabilitation, Association of Academic Physiatrists, American College of Physician Executives, and American Medical Rehabilitation Providers Association. He is the author or coauthor of articles and abstracts published in peer-reviewed journals, including New England Journal of Medicine, American Journal of Physical Medicine and Rehabilitation, and Journal of Trauma.
Dr. Khademi earned his B.A. in biology summa cum laude at Rutgers University, New Brunswick, N.J., and earned his M.D. at Georgetown University School of Medicine, Washington, D.C. He completed his internship in internal medicine at Hackensack University Medical Center, Hackensack, N.J., and completed his residency in physical medicine and rehabilitation at JFK Johnson Rehabilitation Institute, Edison, N.J. Dr. Khademi is listed in Consumers Research Council of America "America's Top Physicians" and "Best Doctors in America".
ABOUT SUMMIT MEDICAL GROUP
Summit Medical Group (SMG) is the largest privately held multispecialty medical practice in New Jersey. SMG maintains a 42-acre healthcare campus in Berkeley Heights and 19 additional practice locations in Berkeley Heights, Morristown, Millburn, Short Hills, Springfield, New Providence, Warren, Westfield and West Orange. As an East Coast premier multispecialty group, SMG has provided exceptional primary and specialty care since 1929. For more, visit summitmedicalgroup.com.