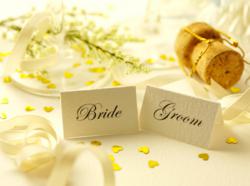 Newport Beach, CA (PRWEB) February 01, 2013
A wedding is an important and life altering event for the bride and groom. According to Wedding.com experts, including details such as unique wedding invitations that represent the pair will make the wedding even more special and memorable for them.
One couple in particular took wedding personalization to a whole new dimension. The couple reportedly created circuit board invitations to go hand-in-hand with their "circuit and swirls" theme. The invitation came complete with Morse code which was activated when a sensor picked up a specific amount of light (http://m.gizmodo.com/5980398/these-circuit-board-wedding-invitations-are-perfect-for-any-geeks-in-love). Experts at Wedding.com agree the couple's wedding theme was unique all its own, and the idea of creating an actual circuit board invitation was ingenuous. However, the wedding experts say couples do not have to be as tech saavy as this particular bride and groom to add personal touches to their own wedding.
"Even the least creative couple can find ways to make their wedding more meaningful. It could be as simple as utilizing books in the wedding decor for a couple who enjoys reading or swapping table numbers for names of world cities for a couple who frequently travels," says Brett Reynolds, CEO of Wedding.com. "Couples should sit down together, brainstorm a list of things that represent them, and figure out if any of those things can be included. If they need help, they can go over the list with their wedding planner."
For more information about Wedding.com, please visit http://www.wedding.com.
About Wedding.com
Wedding.com is an innovative new website that connects engaged couples planning their wedding with wedding vendors looking to grow their business. Wedding.com contacts vendors for couples, giving them the power to compare and negotiate while ultimately saving time and money. With 11,000 couples and 20,000 vendors currently using the website, 87,000 proposals have already been sent since their inception. Vendors range in services from wedding planners, photographers, florists, and DJs to custom invitations, party favors, and much more. For additional information about the company and its services, please visit http://www.wedding.com.