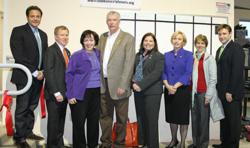 "AnythingIT's decision to expand their services to include e-waste materials is yet another step toward reducing New Jersey's reliance on landfills," said Acting Governor Guadagno.
Fair Lawn, NJ (PRWEB) February 04, 2013
Acting Governor Kim Guadagno joined Senator Bob Gordon, County Executive Kathleen A. Donovan, Fair Lawn Mayor John Cosgrove, and other local officials for the ribbon-cutting of AnythingIT (OTCBB: ANYI), a leading information technology that specializes in the recycling, recovery and reuse of electronic equipment.
Although AnythingIT has been incorporated since 1992, the ribbon-cutting celebrates the additional services the company is now able to offer as a result of receiving a Class D (Universal Waste) Recycling Facility permit. These additional e-waste services include shredding materials onsite, de-manufacturing consumer electronics and accepting universal e-waste. Both the governor's office and the Bergen County Economic Development Corporation were instrumental in getting the permit approved.
"AnythingIT's decision to expand their services to include e-waste materials is yet another step toward reducing New Jersey's reliance on landfills," said Acting Governor Guadagno. "Removing obsolete electronics from landfills addresses the environmental hazard these products pose, while also spurring new business opportunities that create jobs and fuel our economy."
Beyond providing jobs for Bergen County residents, AnythingIT makes a special effort to provide jobs for New Jersey's veterans.
"We work with a group called Work Vessels for Veterans and made a huge commitment to hiring veterans," said Bernstein. "They're great employees and we always give preference to them as job candidates. Our business gives veterans the opportunity to learn a new trade and skill set in information technology. We actually donate laptops through Work Vessels for Veterans to returning vets to help them go back to school."
"We have been working with AnythingIT over the past year to secure the first DEP Class D recycling permit in Bergen County, only the seventh permit of its kind in the state," said Maggie Peters, director of the Bergen County Economic Development Corporation. "We are pleased to have such an innovative company within the county and will continue to be a partner and support in any way we can."
About AnythingIT
AnythingIT is a leading asset management vendor and e-waste handler serving OEM's, Equipment Resellers, government and enterprise clients. Services provided by the company include: data scrubbing, shredding, inventory management, repair and remarketing of equipment and recycling of parts and materials. AnythingIT has been operating since 1992 and is a GSA Schedule Holder who has achieved R2 and ISO 14001 certification.
Safe Harbor Statement
This press release contains forward-looking statements that can be identified by terminology such as "believes," "expects," "potential," "plans," "suggests," "may," "should," "could," "intends," or similar expressions. Many forward-looking statements involve known and unknown risks, uncertainties and other factors that may cause actual results to be materially different from any future results or implied by such statements. These factors include, but are not limited to, fluctuations in inventory valuation and risk of declining prices of new computer equipment, dependence on sales to the Federal government or prime contractors for the Federal government, its ability to effectively compete, the possible need to raise additional capital, a limited public market for its common stock, among other risks. AnythingIT Inc.'s future results may also be impacted by other risk factors listed from time to time in its SEC filings. Many factors are difficult to predict accurately and are generally beyond the company's control. Forward-looking statements speak only as to the date they are made and AnythingIT Inc. does not undertake to update forward-looking statements to reflect circumstances or events that occur after the date the forward-looking statements are made.
For information, please contact:
David Bernstein
AnythingIT, Inc.
201-475-7301
daveb (at) anythingit (dot) com