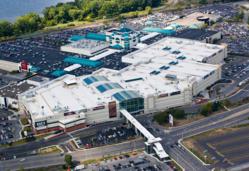 A unique retail experience, expanding and embracing new dining and entertainment concepts to create an entirely new atmosphere.
Syracuse, NY (PRWEB) February 07, 2013
Shopping has a whole new meaning for select shopping destinations, including one that is within a day's drive. These innovative facilities are offering a unique retail experience, expanding and embracing new dining and entertainment concepts to create an entirely new atmosphere.
Destiny USA, the 2.4 million square foot destination shopping center in Syracuse, NY, has welcomed a dynamic and diverse mix of dining and entertainment to add to its already 200+ retail stores and premium outlets. And, they're all under one roof. New upscale restaurants include Cantina Laredo, Melting Pot, Gordon Biersch, P.F. Chang's, T.G.I. Friday's and Texas de Brazil (opening Q1 2013). Located in Destiny USA's coveted Canyon area, these restaurants are located in prime spots once reserved for retail anchor stores.
Restaurants are already playing a significant role in drawing customers from across New York State, Pennsylvania and Canada to this all-in-one-destination, as seen by the incredible performances of national restaurateurs Cantina Laredo and The Melting Pot, which opened in the Canyon section of Destiny USA earlier this year. Cantina Laredo broke company records with more than 7,000 visitors in their first week and they've consistently outperformed other Cantina Laredo locations across the country. The Melting Pot saw similar success immediately in Syracuse, with customers having to book reservations weeks in advance. Gordon Biersch, T.G.I Fridays, and P.F. Chang's opened to the same demand amid the strongest shopping season of the year.
Destiny USA's new dining lineup adds to popular current venues like Koto Japanese Steakhouse, Pizzeria Uno, Ruby Tuesday and Johnny Rockets, not to mention dozens of more casual and fast-food options. It's easy to see that this is becoming a destination of much more than shopping.
Families are also making the regional trip to Syracuse to race electric go karts at speeds up to 45 mph at Pole Position Raceway and test themselves on the world's largest suspended indoor ropes challenge course. The Canyon Climb Adventure is part of the "edutainment" venue WonderWorks, a scientific amusement park with more than 100 exhibits and activities including a hurricane shack, 4D roller coaster, laser tag and much more. And Golf enthusiasts are playing their favorite courses from around the world, without needing to travel around the word, at OptiGolf.
Sound like fun? There's more.
Fun is an understatement for Destiny USA's third-floor entertainment level in 2013. Regal Cinemas is preparing to add an IMAX theater as well as an RPX to its existing 17 theater venue. Revolutions Entertainment will include 34 lanes of bowling and an arcade and Toby Keith's I Love This Bar and Grill will make Destiny USA 'a little bit country' with its live music entertainment and southern food. Funny Bone Comedy Club, Amazing Mirror Maze, The Ice Museum and 5 Wits Adventure will also add to the mix.
Watch our videos about these restaurants, entertainment venues, and more at http://www.YouTube.com/DestinyUSAvideo.
Background:
Destiny USA is a 2.4 million square foot tourist destination in Syracuse, NY that includes a strong mix of luxury outlet tenants, restaurants and entertainment. New brands are continuing to open to create a unique and dynamic consumer shopping experience. A stunning three-story glass atrium provides perfect weather year round. Oxford Economics has projected an annual visitation rate of over 29 million visitors from throughout the U.S. and Canada. Destiny USA is expected to be the second most visited shopping center in the country, according to Travel and Leisure magazine. It is the largest LEED® Gold certified retail commercial building in the world.
In May 2012, Shopping Center Business highlighted how the mix in Destiny USA is designed to draw a diverse crowd from across New York State and Canada. The Wall Street Journal in a February article about Destiny USA, addressed how the leasing activity in the retail world has changed, with the most active tenants in shopping being outlet stores, restaurants and entertainment venues.