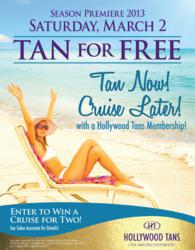 Hollywood Tans salons participating in Season Premiere Day will give free tans, and also give eligible customers the chance to win a complimentary cruise.
New Jersey (PRWEB) February 01, 2013
On Saturday, March 2, 2013, participating Hollywood Tans tanning salons nationwide will give away free tans in celebration of the brand's fifth annual Season Premiere Day. Each year, this day marks the start of indoor tanning season for Hollywood Tans.
"Tan Now! Cruise Later!" is the theme for this year's Season Premiere Day. While any consumer can receive a free tan without obligation at participating salons on March 2, existing Hollywood Tans members and new members will have the chance to enter to win a complimentary Hollywood Tans sponsored cruise.
Eligible customers will be able to enter their name into a drawing for a chance to win a cruise voucher. One (1) lucky winner will receive a $750 cruise voucher from Liberty Travel, allowing the winner to put toward a cruise destination of their choice.
The following are eligible to enter into the drawing for the complimentary cruise voucher prize:

Customers purchasing a new Hollywood Tans membership on March 2.
Existing members upgrading their current level Hollywood Tans membership on March 2.
Existing top-level members (those unable to upgrade further) that make a product purchase of $75 or more on March 2.
Customers entering to win the Hollywood Tans sponsored cruise voucher will mail in the entry form to the Hollywood Tans Headquarters in New Jersey, which is listed at the bottom of each entry form. The contest drawing will be held on April 1, 2013. Limited to one entry per person.
Since debuting in 2009, Season Premiere Day has become an eagerly anticipated event for indoor tanning enthusiasts, Hollywood Tans staff and consumers who want to experience indoor tanning free and without obligation. Salons across the nation have experienced nearly 100% increases in foot traffic and record breaking membership activations and upgrades during the Hollywood Tans Season Premiere.
Customers can find the nearest Hollywood Tans salon using the company's salon locator listed at the top of their website.
ABOUT HOLLYWOOD TANS
Hollywood Tans is a nationwide chain of over 125 indoor tanning salons providing both UV and sunless tanning services. Hollywood Tans salons are independently owned and operated and are the exclusive U.S. outlets for Hollywood Tans-branded lotions and products. Its salons focus on stand up tanning, which provides great results in less time than traditional tanning beds.