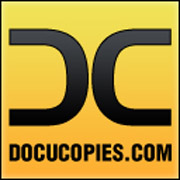 HUDSON, WISCONSIN (PRWEB) February 01, 2013
The nation's leading online provider of cheap color copies and digital printing, Docucopies.com, recently added new products to their line.
Now available on their website's ordering forms are rack cards, bookmarks and additional postcard sizes like 5"x7". They've also expanded their envelope offerings to include A4, A6 and A7 sizes, which are typically used for invitations and greeting cards.
"In the past some of these products required customized quotes based on their finished sizes after trimming," says Vice President/Marketing Director Jeff Corbo. "These are now figured into our automated ordering forms so customers can get instant prices instead of waiting for custom quotes."
With the launch of their new website and upgrade to their system's back end, the company can now add and remove products easily and quickly. This is one way the company is able to stay on top of consumer demand and offer greater flexibility to their customers across the nation.
For more information on Docucopies.com's cheap color copies, color printing, brochures, books, booklets, postcards and other products, visit them online at http://www.Docucopies.com.