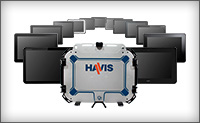 WARMINSTER, Pa. (PRWEB) February 01, 2013
Havis Inc., an ISO 9001:2008 certified company, announced this week that its new Universal Tablet Mount is now available for order. The Universal Tablet Mount, which was introduced in December, is adjustable to secure most 10-inch tablets with or without their protective cases and skins, depending on the tablet model. Compatible tablet manufacturers include Acer, Apple, Asus, Dell, Lenovo, Motorola, Panasonic, Samsung, and Toshiba.
As a universal device, this tablet mount offers flexibility and durability in a wide variety of industries and environments. The Universal Tablet Mount utilizes a thin design to maintain a low profile, and its overall smaller footprint maximizes space within a vehicle or office setting.
The tablet mount has been tested to withstand crash simulations per SAE J1455 and is compliant with RoHS (Restriction of Use of Hazardous Substances) regulations. It features an easy-to-use latch handle and barrel lock, which work together to keep the tablet securely mounted through rugged driving conditions.
Mobile professionals looking to enhance their own portability and efficiency can accessorize their tablet mount with the Havis Desktop Stand for Tablet Docking Stations. This stand provides a sturdy mounting base for the Universal Tablet Mount, and it allows the user to easily transition from vehicle to office with fewer interruptions.
For a safe and ergonomic in-vehicle workspace, Havis suggests pairing the Universal Tablet Mount with its vehicle mounting and motion accessories. The tray is also compatible with a number of available mounts, as its mounting base fits the universal VESA 75mm hole pattern.
To learn more about the features, specifications and certifications of the Havis Universal Tablet Mount, please visit http://www.havis.com/universal-tablet-mount.
FOLLOW HAVIS
Stay up-to-date on the latest products and announcements from Havis through Facebook, Twitter and YouTube.
ABOUT HAVIS
Havis Inc. is a privately held, ISO 9001:2008 certified company that manufactures in-vehicle mobile office solutions for public safety, public works, government agencies and mobile professionals. For over 80 years, the Havis mission has been to increase mobile worker productivity with industry-leading products that are built to the highest safety and quality standards and are designed with comfort in mind. Headquartered in Warminster, Pa., with an additional location in Plymouth, Mich., Havis currently employs 200 people. For more information on Havis, please call 1-800-524-9900 or visit http://www.havis.com.
CONTACT:
Andrea Felice
Havis, Inc. | Marketing
Phone: 215-957-0720 ext. 3198
E-mail: media(at)havis(dot)com
# # #