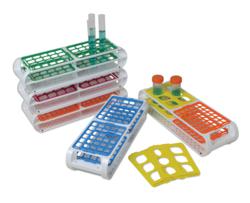 Scienceware® Switch-Grid™ Test Tube Racks give users more room to work and fewer racks to store!
Wayne, NJ (PRWEB) February 01, 2013
As space in the lab becomes increasingly limited, consolidating different size test tubes within one rack frame can make benchtop and storage areas less cluttered.
The new Scienceware® Switch-Grid™ Test Tube Rack enables storage of up to two size tubes at one time with 25 possible tube size combinations, all in one rack. The result is much more compact and less expensive than multiple single racks. It gives users more room to work and fewer racks to store.
"There are racks available which allow for different sizes of tubes to be carried in the same rack, but they tend to be fixed and not interchangeable. Therefore, the end user must purchase multiple racks in order to accommodate many different tube sizes," according to Laura Geenen, Product Manager for Bel-Art Products. "With Scienceware® Switch-Grid™ Test Tube Racks, fewer racks are needed."
Each rack is divided into two sides allowing the same or different size tube grids to be used in each side. The grids can be removed and replaced in seconds and are available in 5 color coded sizes to fit tubes from 10mm to 30mm.
The chemical-resistant plastic rack frame and grids can be cleaned easily and are autoclavable. Rubber feet help keep the racks from sliding on the benchtop and provide secure stacking while in storage.
The suggested list price for one rack with a set of 4 grids in a single size is $19.50. Grids can be swapped between racks, or extra grid packs in orange (10-13mm), blue (13-16mm), green (16-20mm), fuchsia (20-25mm), or yellow (25-30mm) are available for $5.00 per pack of four.
To see the Scienceware® Switch-Grid™ Test Tube Rack in action, visit the Scienceware YouTube channel (http://www.youtube.com/user/Scienceware).
For more information on the Scienceware® Switch-Grid™ Test Tube Rack, or the complete line of laboratory offerings from Bel-Art Products, call 1-800-4BELART, email info(at)belart(dot)com or visit http://www.belart.com. To request a FREE copy of the Bel-Art Products 2011 Catalog, click here.
Bel-Art Products simplifies tasks with innovative product solutions for science, industry and healthcare. Over 3500 items from safety wash bottles to fume hoods are manufactured and marketed under well-known brand names including Scienceware® laboratory products, Spinbar® magnetic stirring bars, Magic Touch™ icewares, Sterileware® sampling tools, H-B Instrument™ thermometers and hydrometers, Secador® desiccator cabinets, KLETT® colorimeters, and Poxygrid® racks. Established in 1946, Bel-Art Products is a United States based manufacturer headquartered in Wayne, NJ.