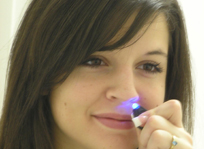 UV-Aid makes use of hydroxyls, nature's detergents, helping to kill bacteria and viruses, preventing colds, flu, and ear infections.
Fort Myers, FL (PRWEB) February 28, 2013
Every second of every day, countless invisible reactions happen inside and around our bodies helping to keep the air clean and our bodies free of disease. Oxygen, the element necessary for life, reacts with other elements especially hydrogen forming hydroxyls. Hydroxyls are called nature's detergents for their ability to remove dangerous greenhouse gases and other contaminants from the sky. Hydroxyls are also used by white blood cells in the body to kill bacteria and viruses.
UV-Aid, a patent pending supplement, developed by UV Technologies of Fort Myers, Florida, has found a new groundbreaking method of using hydroxyls, nature's detergent, to help kill bacteria and viruses preventing colds, flu, and ear infections. The light emitted by UV-Aid has been shown to produce hydrogen peroxide when exposed to skin. This hydrogen peroxide then reacts with other elements producing hydroxyls known for their ability to remove unwanted bacteria and viruses. A team at Boston University School of Medicine found antibiotics work in a similar fashion by producing hydroxyls that penetrate the cell walls of bacteria, eventually killing them. The difference between antibiotics and UV-Aid technology is the precision and accuracy of the two methods. Antibiotics kill both good and bad bacteria throughout the human body. The rise in "superbugs" (highly antibiotic resistant bacteria) like MRSA and deadly CRE is attributable to the misuse and overuse of antibiotics. UV-Aid directs light only to specific areas of the body helping to kill bacteria in the ear, nose, and throat that are especially prone to infection.
Hydroxyls also work against most types of viruses. This is in contrast to vaccines that are designed to work against only a few types of viruses. Vaccines have been used to combat the flu since the 1940's but recently, the strategy and effectiveness have been brought into question. It has become increasingly difficult to predict what vaccine to produce for the upcoming year leaving whole populations vulnerable. On top of that, flu shot side effects are well documented, and elderly patients, most susceptible to the flu, do not respond well to vaccines. A recent report revealed flu vaccines are only 59% effective. UV-Aid offers a new and promising strategy for combating the ever changing and increasingly deadly flu viruses.
The UV-Aid process of disease prevention makes use of the body's natural ability to stop invading bacteria and viruses helping to prevent colds, flu, and ear infections.
UV-Aid can be purchased at UV Technologies' website http://www.uvaid.com.
About UV Technology, LLC:
UV Technologies, LLC's mission is to provide the best and most innovative products for customers' health and well-being. UV-Aid helps prevent colds, flu, sore throats, sinus, and ear infections through the natural process of photo-oxidation and the formation of hydroxyls. iTanSmart is a free app developed to help manage exposure to the sun. UV Technologies promises to bring its customers the safest and most innovative products to live a healthier, more productive life. UV Technologies is a member of the Better Business Bureau. Visit http://www.uvaid.com for more information.