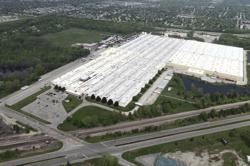 "The Sika Sarnafil Roof Recycling program helps reduce waste and allows us to be more efficient with our products and resources." -- Brian J. Whelan, Senior Vice President of Sika Sarnafil
Canton, Mass. (PRWEB) February 13, 2013
Sika Sarnafil, the worldwide market leader in thermoplastic roofing and waterproofing membranes, has been awarded the 2012 RoofPoint™ Excellence in Design Award for the General Motors Customer Care & Aftersales Warehouse in Lansing, Michigan.
The 2012 RoofPoint Excellence in Design Award, developed by the Center for Environmental Innovation in Roofing, recognizes the best in design and installation of long lasting, energy efficient, and environmentally friendly roof systems. The Sika Sarnafil project was one of 100 entries received for this year's awards and was selected for demonstrating Excellence in Materials Management, including material recycling, project waste management and the use of environmentally preferable construction materials.
The General Motors (GM) project involved reroofing 475,000 sq. ft. with Sika Sarnafil's reflective, energy-efficient Sikaplan vinyl membrane. Two layers of vinyl roof were removed from the building and as a result, nearly one million square feet of membrane, equaling 140 tons, was recycled – making it the largest vinyl roof-recycling project in North America. The material has been recycled into Sika Sarnafil roofing membrane products.
"Sika Sarnafil is committed to helping contractors, building owners and the government reduce their environmental footprint and achieve their sustainability goals," said Brian J. Whelan, Senior Vice President of Sika Sarnafil. "The Sika Sarnafil Roof Recycling program helps reduce waste and allows us to be more efficient with our products and resources. We are honored to be recognized for this project by the Center for Environmental Innovation in Roofing."
GM is the leading company among all automakers in terms of recycling and reusing of waste from its manufacturing facilities. The company recently announced its 103rd facility to achieve landfill-free status. GM is the only automaker inducted into the WasteWise Hall of Fame of the U.S. Environmental Protection Agency.
Brian Whelan, SVP of Sika Sarnafil, leads a tour of Sika Sarnafil's Roofing Membrane Recycling program, which has recycled more than 24 million pounds of pre and post-consumer material. View the PVC roof recycling video.
View this press release on the Sika Sarnafil [website.
About Sika AG
Sika AG, headquartered in Baar, Switzerland, is a globally active company supplying the specialty chemicals market. It is a leader in processing materials used in sealing, bonding, damping, reinforcing and protecting load-bearing structures in construction (buildings and infrastructure construction) and in industry (vehicle, building component and equipment construction). Sika's product lines feature high-quality concrete admixtures, specialty mortars, sealants and adhesives, damping and reinforcing materials, structural strengthening systems, industrial flooring and roofing, and waterproofing membranes. Sika AG has subsidiaries in more than 76 countries worldwide and approximately 15,250 employees link customers directly to Sika and guarantee the success of all of its business relationships. With this business structure, Sika generates annual sales of CHF 4.556 billion. For more information about Sika Sarnafil in the U.S. including Canton, MA visit http://usa.sarnafil.sika.com/.
###