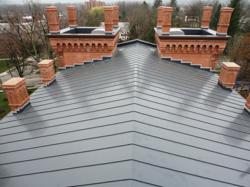 "Congratulations to the winners of the 2012 Sika Sarnafil Contractor Project of the Year competition," said Brian J. Whelan, Senior Vice President of Sika Sarnafil.
Canton, Mass. (PRWEB) February 05, 2013
Winners of the 2012 Contractor Project of the Year Competition were announced today by Sika Sarnafil, the worldwide market leader in thermoplastic roofing and waterproofing membranes. The competition highlights excellence in roofing installation and the winners include: Doctors Hospital of Manteca, Manteca, CA; Cowles Hall at Elmira College in Elmira, NY; George W. Bush Presidential Center in Dallas, TX; and the Arizona State University Student Recreation Center in Tempe, AZ.
"We are proud to honor these roofing contractors for their award winning projects and salute them for their dedication to the roofing industry and installation excellence," said Brian J. Whelan, Senior Vice President of Sika Sarnafil. "Congratulations to the winners of the 2012 Contractor Project of the Year competition."
A winner and two finalists in four different categories: Low Slope, Steep Slope, Waterproofing and Sustainability were recognized for outstanding workmanship in completing a project using a Sika Sarnafil thermoplastic membrane for roofing or waterproofing applications.
Low Slope Category Winners
Waterproofing Associates, Inc. of Mountain View, CA won first place for the reroof of the 73-bed, one-story Doctors Hospital of Manteca. This building's mechanical, piping and electrical services are all up on the roof, resulting in a labyrinth of ductwork and piping that posed a healthy challenge for Waterproofing Associates while working above a functioning hospital. The second place winner was Bi-State Roof Systems, Inc. of Valley Park, MO for the St. Louis Art Museum. Third place went to Wolkow Braker Roofing Corporation of Garden City Park, NY for the Barclays Center in Brooklyn, NY.
Steep Slope Category Winners
In the Steep Slope category, Charles F. Evans Company, Inc. of Elmira, NY was awarded first place for their work on Cowles Hall at Elmira College. Cowles Hall was the very first building constructed at Elmira College back in 1855 and is listed in the National Register of Historic Places. Evans Roofing addressed a failing roof system totaling 33,000 square feet. The project included tower roofs, flat roof areas, and an octagonal cupola evocative of French designs of the 1850's. R. Adams Roofing, Inc. of Indianapolis, IN was the second place finisher for the Cherry Tree Elementary School in Carmel, IN. Allied Restoration Corporation of East Hartford, CT was the third place finalist for the Waterford High School, Waterford, CT.
Waterproofing Category Winners
Cardinal Roofing, Inc. of Grand Prairie, TX took first place in the Waterproofing class for the George W. Bush Presidential Center. The project achieved LEED® Platinum certification and needed both waterproofing and roofing applications to protect historical records, artifacts, and photos documenting the legacy of our 43rd president. Second place in this category went to D.C. Taylor Company, Cedar Rapids, IA for the TD Ameritrade Headquarters, Operations & Technology Center Pavilion in Omaha, NE and third place to Eberhard Benton Roofing, San Diego, CA for the County Operations Center also in San Diego.
Sustainability Category Winners
In the Sustainability category, Star Roofing Inc. of Phoenix, AZ won for the Arizona State University Student Recreation Center. The roofing project involved the tedious and time-consuming task of flashing the many pipe stands required by a newly installed solar system that is now delivering heat, air conditioning and hot water to the building while also heating an adjacent pool. In second place was Best Contracting Services, Inc., Gardena, CA for the Richard Riordan Central Library in Los Angeles, CA and in third place for this grouping was D & D Roofing, Inc. of Commerce City, CO for One Denver Tech Center, Greenwood Village, CO.
More than two-dozen contractors from around the U.S. submitted projects for evaluation in the annual Sika Sarnafil Contractor Project of the Year competition. First place winners were awarded cash prizes and all finalists were presented with recognition plaques.
View this press release on our website.
About Sika AG
Sika AG, headquartered in Baar, Switzerland, is a globally active company supplying the specialty chemicals market. It is a leader in processing materials used in sealing, bonding, damping, reinforcing and protecting load-bearing structures in construction (buildings and infrastructure construction) and in industry (vehicle, building component and equipment construction). Sika's product lines feature high-quality concrete admixtures, specialty mortars, sealants and adhesives, damping and reinforcing materials, structural strengthening systems, industrial flooring and roofing, and waterproofing membranes. Sika AG has subsidiaries in more than 76 countries worldwide and approximately 15,250 employees link customers directly to Sika and guarantee the success of all of its business relationships. With this business structure, Sika generates annual sales of CHF 4.556 billion. For more information about Sika Sarnafil in the U.S. including Canton, MA visit http://usa.sarnafil.sika.com/.
###