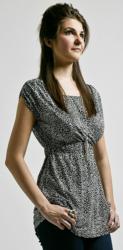 Maternity Clothes for Spring and Summer Now In!
West Des Moines, IA (PRWEB) February 01, 2013
Bliss Baby & Maternity.com is an online maternity boutique that carriers a variety of maternity and nursing tops. This is a store that carries clothing that can be found online when shopping for maternity clothing. Not only is there a great selection of maternity clothing, nursing tops, and transitional maternity clothing, this is a great selection of slings, fitness clothing, baby items, baby clothing, shoes, socks, and many more items. It's a great one stop shop for any expecting and new mother. One thing that any new mother can benefit from is the list of helpful resources and links for breastfeeding mother's. This is a beautiful site so if it hasn't been checked out yet, please visit at http://www.blissbabyandmaternity.com.
One top that should be looked at is the Inez Tunic. It's manufactured by Annee Matthew and is just lovely. This is a maternity top and will also transition as it is also a nursing shirt too so it can be worn afterwards for quite some time. This shirt can do double duty and can be worn much longer than a maternity shirt that is not a nursing top too. The band that is under the bust line is nice and accentuating. This style tends to look better on and gives me some definition between a growing belly and bust line. It's also got the pull aside nursing access for easy breastfeeding and this is a great top for spring and summer. The print has a little geometric print to it and it's subtle and not too bold.
The quality of the shirt is great. It can be washed over and over and it will keep the shape it came with. It's made from an eco-friendly material called lyocell (a regenerated wood pulp), that's resistant to wrinkles. This is a plus for someone that doesn't like to iron. The top fits well and it is nice and long to cover the belly. It's a great overall maternity and nursing shirt.
Purchase the Inez Tunic at Bliss Baby & Maternity.com and look at other maternity and nursing tops. It is great quality and can be worn long after pregnancy which makes it a great transition piece and won't be thrown in the "maternity clothes" box after pregnancy. The top comes in black and grey and is very versatile and can be worn with pants, jeans, capris, and shorts. The top comes in a variety of sizes.
Visit http://www.blissbabyandmaternity.com for all the spring and summer maternity clothing and nursing tops that may be needed as well as it is a one stop shop for all the new baby items needed as well such as furniture, baby bedding, baby clothing, gifts, toys, and more.