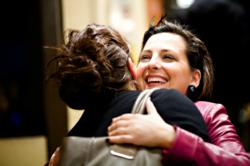 A lot of people say they can't afford a personal wardrobe stylist, but the truth is you save time and money working with us.
Silicon Valley, CA (PRWEB) February 13, 2013
Urban Darling, the San Francisco Bay Area-based boutique wardrobe stylist agency known for its "Purge, Merge, Splurge" approach to wardrobe repair, announced today the results of an online client survey.
Throughout the months of December 2012 and January 2013, Urban Darling surveyed clients about their experiences working with (paid-for-their-time) Urban Darling personal wardrobe stylists and, where applicable, how those experiences compared to working with (traditionally free, commission-based) in-store personal shoppers. Given the increased availability of in-store personal shoppers, Urban Darling wanted to know whether their clients believed they'd spent more, the same or less working with paid professionals versus in-store sales people, and what the outcomes were from each service.
Survey results found that more than half of clients believed they'd spent less money overall by working with an Urban Darling personal stylist. An additional 35 percent of clients indicated they'd spent about the same overall. Just 13 percent of clients surveyed stated that they'd spent more. Among more regular clients of Urban Darling — those who'd worked with a professional wardrobe stylist three or more times — 75 percent believed they'd saved money overall.
Among clients who believed they'd spent more, several indicated that the value surpassed the expense. "I have a wardrobe that is awesome now and great outfits for every kind of situation," one respondent said. "Spent a little more money than I used to at first, but I don't waste money on purchases that don't work for me anymore. It's a great investment and has made me feel more confident, powerful and attractive."
"This finding validates what we in the stylist industry have always known," says Urban Darling founder Corinne Phipps. "As professional wardrobe stylists, we are experts. We know what's available in stores and we know what works for our clients' lifestyles and body types. A lot of people say they can't afford a personal wardrobe stylist, but the truth is you save time and money working with us. We help clients shop smarter than they can alone or with the help of a commissioned in-store shopper."
Beyond saving time and money, surveyed clients indicated that additional benefits of working with a professional stylist included increased self-confidence, learning to shop for bargains and put together outfits, and getting an independent, objective opinion on what worked best for them. "[The Urban Darling stylist] really got to know me, my goals and tastes," one client said, while another explained, "I saw [my stylist] after I had my first baby. I had no idea how to dress myself anymore, and she got me out of leggings and put outfit choices together from clothes I already had. It was great to be excited again to get dressed in the morning and to feel good about myself."
Of those surveyed, one in four had also experienced working with an in-store personal shopper. When asked to compare the experiences, one client said: "The personal shopper was clearly focused on selling things, whereas Urban Darling stylists never care if I buy anything. They have a different focus, so the experience has a different feel and result. I'd rather pay for their expertise than rely on a salesperson who's working on commission."
While some clients indicated that they appreciated the knowledge in-store shoppers had of their store's merchandise, others appreciated that Urban Darling stylists were able to visit multiple stores and work in client's homes. As one respondent explained, "The Urban Darling stylist helped me with what I already owned and gave me a few future purchase suggestions. The store stylist helped me spend $300+ on more stuff for my wardrobe."
"The survey findings match my personal experience," said Fanny Woo, Urban Darling's director of operations and a personal stylist herself, "Having over 20 years in retail, I know the limits of working in a commission-based sales environment. You can't see what clients already have in their closets, and you can't always provide a great fit for all clients — it depends on what brand(s) your store carries. Now, as an independent stylist, I can shop in-person, online…the entire globe…to serve my clients. It's a stronger, more fulfilling relationship."
Urban Darling, founded by Corinne Phipps in 2006, provides in-person and virtual wardrobe-styling services to men and women across the United States through its network of 30 personal stylists in nine states.
###