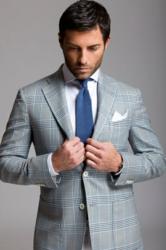 Many of the predictions we've made are in-line with what we've seen at shows such as the 2013 London Men's Fashion Week
San Francisco, CA (PRWEB) February 04, 2013
Mens-Ties.com, a reputable retailer of men's ties and accessories, today announced their picks for best new trends spotted at the 2013 London Men's Fashion Week.
"At Mens-Ties.com, we're a huge fan of fashion week," says the site's founder Hendrik Pohl. "We play as close attention as possible to fashion weeks throughout the world, and London is no exception. This year's London Men's Fashion Week was especially worth taking a closer look at, as some of the collections were nothing short of breathtaking. We figured it would be in the best interest of our readers to publish a series highlighting what we felt were the best new men's fashion trends seen at the event."
The series consists of five articles, each of which highlights a different trend that made a splash at the 2013 London Men's Fashion Week. Blaze orange makes the cut, as it showed up in the collections of a variety of designers during London Men's Fashion Week. In addition, checks, androgyny, sportsmen's outerwear and vintage looks are all highlighted in the series. Each piece ends with "Takeaways for the Modern Man," a section devoted to helping readers determine how they can best embrace the trend.
"There were some great looks at the 2013 London Men's Fashion Week, and it's important to us that our readers understand it doesn't have to be exceptionally difficult to embrace them," says Pohl. "Sure, many of the pieces highlighted were very expensive, but the trends overall don't need to be costly to shift towards. It's all about understanding ways to incorporate certain elements into one's ensemble without spending a veritable fortune, and doing so is usually quite a bit easier than most people think."
On its blog, Mens-ties.com regularly publishes article series' that deal with guys' style and fashion. Just recently, a series on predictions for the best men's fashion trends for 2013 was published.
"Many of the predictions we've made are in-line with what we've seen at shows such as the 2013 London Men's Fashion Week," says Pohl. "These looks are, of course, not for everyone, but those who learn how to embrace them in an effective manner have a lot to gain from doing so. This is one of the main reasons we include the 'Takeaways for the Modern Man' section, as we want to show our readers that some of these trends may suit the style that they already embrace quite well."