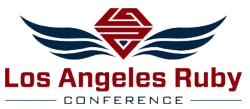 Los Angeles, CA (PRWEB) February 01, 2013
The fifth annual Los Angeles Ruby Software Developers Conference (aka- LARubyConf) has been scheduled in two locations this year. Workshops in Ruby development are being held February 21-22 at the Holiday Inn, Media Center in Burbank CA and the day long conference will be held Saturday, February 23 at the Marconi Auto Museum in Tustin, CA.
Founders & co-organizers, Coby Ranquist, JR Fent, and Connie Fent, are anticipating attendance to rise to 150% this year for several reasons. "Last year the conference drew people from across the country because of the great conference presentations and the opportunity to socialize with fellow rubyists. This year we are seeing people from as far away as Europe and India that are making arrangements to attend", said Coby Randquist. "The venue is definitely a draw, but the workshops and conference talks are extremely important to the Ruby Developer community."
LARubyConf is a regional event and the only one of it's kind in Southern California which is providing a platform for developers that utilize Ruby and Ruby on Rails (a web applications framework based on Ruby). Local sponsors include Carbon Five, The Hybrid Group, Zest Financial, and Logical Reality Design. Worldwide renown sponsors for the event include VersaPay, EngineYard, Pivitol Labs, New Relic, Yammer, oversee.net, Jumpstartlab, and Sharethrough.com.
The venue for the conference this year is the Marconi Auto Museum in Tustin, CA. The Marconi has a beautiful collection of sports cars, race cars, and American muscle cars. "It's actually in Orange County this year but the venue is worth the commute. It's really fun to watch the attendees enjoying the displayed cars between sessions.", said Connie Fent. " And The Marconi is a non-profit that's proceeds benefit children's charities. So we like that too."
Workshops are all day Thursday Feb 21 & Friday, Feb 23 in Burbank. The Conference is all day Saturday Feb 23 in Tustin, CA. For more details on 2013 LARubyConf visit http://zplr.us/larubyconf