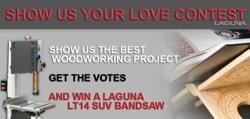 Irvine, California (PRWEB) February 01, 2013
Hundreds of woodworking enthusiasts from across the country are expected to fire up their bandsaws to showcase their creativity and craftsmanship as part of the 3rd Annual "Show Us Your Love" Bandsaw Contest starting in February. Besides national bragging rights, the winning participant will receive a new bandsaw valued at over $1,600 from Laguna Tools in Irvine, California, the sponsor of the popular event.
According to Catherine Helshoj, spokesperson for the 3rd Annual "Show Us Your Love" Bandsaw Contest, the event was conceived to showcase and share the creativity and skill of woodworkers from all walks of life – from professionals to hobbyists who work out of their garages. "The number of people entering the contest has virtually tripled every year, and we're already on track to better that number this year."
The winning woodworking project will be chosen by visitors to the Laguna Tools website, who will have the chance to review all of the entries before voting online at http://www.lagunatools.com. "Personally, I'm glad that our web visitors are the ones doing the voting, because we get so many great entries it would be a very difficult decision. Even if they don't win, they get their works displayed on our website or facebook pages. We've also noticed that a number of the entrants' projects we're created as beautiful Valentine gifts for their loved ones – such as keepsake boxes, earrings and usually a few beautiful designs that say 'kiss me.'
"Honestly, the possibilities are as boundless as somebody's imagination," said Helshoj. "From jewelry boxes to exotic hardwood veneered tables – there are no restrictions on what a woodworker can create – as long as a bandsaw is used," she said. "There are millions of Americans currently enjoying woodworking as a hobby, so we expect to see incredible entries again this year."
Helshoj said the winning "Show Us Your Love" Bandsaw participant will become the proud owner of a new LT 14SUV Bandsaw from Laguna Tools, valued at over $1,600, which was named "Best in Class" by Wood Magazine. "When our winning woodworker wins this model, they will get the best of both worlds in one bandsaw – the size and capacity needed for larger jobs, and the blade width for often-required detailed craftsmanship," she added.
Woodworkers can either submit pictures of their projects at http://www.facebook.com/lagunatools or email them to graphics(at)lagunatools(dot)com. One entry allowed per email address per day, with a maximum number of five entries per email address. Official rules can be found at http://www.lagunatools.com/showusyourlove2013.
Laguna Tools, based in Irvine, California, has been leading the industry in woodworking innovations for more than 29 years and continues to challenge the industry with new advancements and innovations. Laguna Tools builds and markets a wide range of woodworking tools, from small tools to CNC. At Laguna Tools, we aspire to be "globally local" by investing our time, support, products and services into many community outreach programs. For more information on the Laguna Tools quality line of performance products, please call 1-800-234-1976 or go to http://www.lagunatools.com.