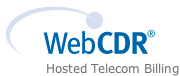 San Francisco, CA (PRWEB) February 05, 2013
WebCDR's new cloud-based anti-fraud service continually downloads and analyzes CDRs and alerts telecom carriers to potentially fraudulent traffic. "VoIP hackers are constantly trolling the Internet with bot apps, seeking out vulnerable IP-PBX and SIP phone targets," warns Adam Nathanson, the founder and CEO of WebCDR. "And once found they are quickly and mercilessly exploited... often running up tens of thousands of dollars in illicit usage."
WebCDR's cloud-based anti-fraud service means carriers don't have to purchase any additional hardware or software, or install any additional on-site components or perform a disruptive integration with their switch. The solution works with any switch that outputs file-based or RADIUS-based CDRs, offering round-the-clock protection with an easy month-to-month contract. "Three separate abuse detection algorithms alert you to atypical traffic," says Nathanson, "often within minutes of a suspected incursion."
Wholesale telecoms have already reported improvements in their security. "One of our clients, a major hotel on the island, runs a soft PBX," remembers Steven Harrison, Network Architect at TeleBarbados, "and someone compromised it and started running calls to Eastern Europe through it, sending the call in via IP and then having the PBX route the call outbound through our service. Previously, we would not find out about them until well at the end of the month, or even later when we ran billing. With WebCDR Anti-Fraud we were alerted within hours of the onset of the fraudulent traffic which enabled us to take prompt action to shut the fraudsters down."
Wholesale telecom carriers also benefit from the availability of collateral data for dispute resolution. "Documenting and proving a fraudulent incursion to the enterprise customer whose equipment was breached is difficult, at best," says WebCDR president Adam Nathanson. "The customer will balk at the eye-popping bill with this as the likely outcome: A billing dispute, a lost customer, and no payment. Meanwhile, the underlying carrier will insist on timely payment for the traffic." Wholesale carriers can end up paying for the mistakes of their customers. "Too many customer premise IP PBX's are inadequately secured," warns Nathanson, "or worse: Entirely unsecured and running with factory default settings, including factory default passwords!"
About WebCDR:
WebCDR is a San Francisco-based provider of award-winning wholesale telecom operation support services (OSS), including WebCDR Billing, WebCDR Anti-Fraud, and WebCDR Watchdog. For more than 13 years, domestic and international carriers have trusted WebCDR as a way to capitalize on the benefits of outsourcing core operation support functions.