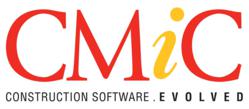 We are honored that for yet another year, CMiC has been sought out as an industry leader whose insights into technology best practices can add something to these events
Toronto, ON (PRWEB) February 04, 2013
Executives from CMiC, the leading developer of advanced software solutions for construction and project based organizations, have been invited to speak at a number of marquee construction industry events during the first half of 2013. Senior executives from CMiC will share their perspective on the increasingly important role played by software and technology in construction, at ABC BizCon, the AGC Constructor Expo and ENR Future Tech.
With the economy projected to stand still for yet another year, construction firms are again looking to technology as a key differentiator, given its potential to lower costs and increase efficiency. At each of the aforementioned events, CMiC will discuss the importance of long term technology planning that supports corporations' strategic plans. Given that the increasing complexity of projects requires all project stakeholders to be on the same page more than ever before, technology platforms need to act as 'information brokers', ensuring that project information is available to all involved parties, regardless of their job function or what system they are using.
"We are honored that for yet another year, CMiC has been sought out as an industry leader whose insights into technology best practices can add something to these events" said Bassem Hamdy, Chief Marketing Officer at CMiC. "We learn as much as we contribute when we are on the road, and we are looking forward to exchanging ideas with the industry's best and brightest in 2013".
###
About CMiC
CMiC is the leading provider of complete, integrated and advanced enterprise level software solutions for construction and capital projects. For nearly four decades, CMiC has partnered with the largest and most technologically progressive architectural, engineering and construction firms in North America, gaining detailed insight into the unique business needs of the industry. From that experience, CMiC has created CMiC Open Enterprise v10, the most advanced construction and capital project software solution ever developed. Combining an incredibly flexible technological infrastructure with a philosophy of total integration, CMiC Open Enterprise v10 lowers costs, improves productivity and increases interoperability.