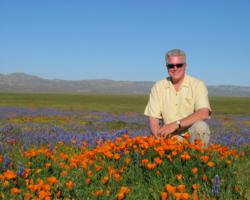 "Chapman has chosen to celebrate Huell's life and work in a way he would have felt was very appropriate." - President Jim Doti, Chapman University
Orange, Calif. (PRWEB) February 01, 2013
Chapman University will throw open the doors of its Huell Howser collections with a free public event on Friday, February 8 from 2 p.m. to 7 p.m. celebrating the life and work of the late, beloved California broadcasting legend.
For "A Golden Legacy: Celebrating the California's Gold Collections and Scholarship Fund and the Huell Howser Television Archive," the university has invited many of the real-life "stars" and eateries featured on "California's Gold" to participate. The public can meet the stars and sample the foods at an open house that will also feature exhibitions of Huell's show memorabilia, the re-purposed "found-art" objects he used to decorate his residences, a full-sized re-creation of his office and much more.
The day's events kick off at 2 p.m. with Chapman President Jim Doti presenting a posthumous honorary doctorate in Huell's memory (prior to Howser's death on January 7, the university's plan had been to present him with an honorary doctorate during this May's commencement activities). The president will also introduce the university's first recipient of the California's Gold Scholarship funded by an endowment from Howser, junior Mayra Gonzalez of Garden Grove. This will be followed by the open house featuring the collections, meet-the-stars opportunity and food sampling, and concluding with a screening of favorite episodes of "California's Gold" in Memorial Hall.
Chapman University is located at One University Drive in Orange, Calif. More information, maps and directions: http://www.chapman.edu/events/huell-howser.aspx or call the event line at 714-997-6589.
"Huell was very clear that he did not want any kind of memorial service," said President Doti, "so Chapman has chosen instead to celebrate both his life and his work in a way that I think he would have felt was very appropriate, and to introduce everyone to his collections and our free online archive of his TV shows. And of course we're inviting the public, because Huell was, above all, a 'people person' – he would have adored meeting and talking to everyone who attends."
Over the past several years, Howser – who "discovered" Chapman University when Doti sent him a handwritten note inviting him to tour the campus – forged a strong bond with the university and made many generous donations, including show memorabilia, papers, two houses, his collection of "found-art" objects – and tapes of all of his more than 900 episodes of "California's Gold" and associated shows ("Visiting…With Huell Howser," "California's Missions," "California's Golden Parks" and more). His wish was for the university to digitize the episodes and make them available, free of charge, to the public online. Following a year-long digitization project, Chapman has launched http://www.HuellHowserArchive.com, where the public can view all of Howser's shows for free.
Howser also endowed the California's Gold Scholarship at Chapman, a project that was "near and dear to his heart," said Doti. "He wanted to create a legacy that will make an impact on the lives of students far into the future." One of the two residences Howser donated to Chapman will be sold, with the funds going into the scholarship endowment. The other, the "Volcano House," an iconic domed structure atop an ancient volcano in the Mojave Desert, will be used by the university as a base for study trips in environmental and biological sciences, film-making, writers' retreats and more.
"A Golden Legacy" Open House at Chapman University
Schedule of Events – Friday, February 8, 2013
All events are free and open to the public. Chapman University is located at One University Drive in Orange, Calif. Maps, parking and driving directions: http://www.chapman.edu/discover/maps-directions/index.aspx
2 p.m. - Memorial Hall
Welcome from President Jim Doti
Presentation of Huell Howser's posthumous honorary doctorate
Meet the first California's Gold Scholarship recipient
View rare footage of Huell Howser
2:30-5 p.m. -- Attallah Piazza
Open House: Meet the Stars of California's Gold
Scheduled to appear:
Slater Barron, "The Lint Lady"
Candace Frazee, The Bunny Museum
Carole Anne Kaufman, whistling champ
Joe Rinaudo, collector of early movie music machines
Dali Yu, The Soap Kitchen
Luis ("Louie") Fuerte, Huell's longtime cameraman – and more
Food sampling from some of Huell's favorites, including:
Pink's Hot Dogs, Los Angeles – featuring the Huell Dog
Village Pizzeria, Los Angeles
Stan's Corner Donut Shop, Westwood
Fosselman's Ice Cream, Alhambra – and more
2:30-5 p.m.
Tour the California's Gold Collection:

Inside the Leatherby Libraries – see a re-creation of Huell's office, enjoy a display of memorabilia and fan gifts from his many travels, and view some of the "found-art" objects he re-purposed into furniture and wall décor.
Inside Beckman Hall, main lobby – view more "found-art" objects and see photos of how they were displayed in Huell's residences.
4:30-7 p.m.
Screening of "California's Gold" Episodes in Memorial Hall
Relax and enjoy some favorite episodes of "California's Gold," selected from the Huell Howser Television Archive, on the big screen! (As Huell wished, ALL episodes of "California's Gold" have been digitized by Chapman University and are available for viewing at http://www.HuellHowserArchive.com)
ABOUT CHAPMAN UNIVERSITY
Consistently ranked among the top universities in the West, Chapman University provides a uniquely personalized and interdisciplinary educational experience to highly qualified students. Our programs encourage innovation, creativity and collaboration, and focus on developing global citizen-leaders who are distinctively prepared to improve their community and their world. Visit us at http://www.chapman.edu.
Follow us on Facebook: http://www.facebook.com/ChapmanUniversity
On Twitter: @ChapmanU
On YouTube: http://www.youtube.com/ChapmanUniversity
###