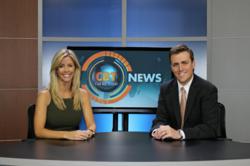 Atlanta, Ga (PRWEB) February 01, 2013
ATLANTA, GA - CBT News, also known as Car Biz Today, announced that it will be providing media coverage at the Digital Marketing Strategies Conference (DMSC), the Best Training Day Ever and the National Automobile Dealers Association (NADA) next week in Orlando, FL.
News show anchors Russell Brown and Bridget Everett will be interviewing various speakers and attendees as well as covering the events' activities. Lasting from February 5th through the 11th, CBT will be on location for all three events reporting from the Hyatt Regency Orlando International Airport, the Hilton Orlando and the Orange County Convention Center respectively.
In addition to event highlights, the CBT News Team has plans to interview notable industry figures such as Glenn and Brian Pasch of PCG Digital Marketing, Russell Grant of J & L Marketing, Dave Anderson of Learn to Lead, Jeff Cowan of Jeff Cowan's Pro Talk, Alan Ram of Proactive Training Solutions, Paul Faletti of NCM Associates, Joe Verde of Joe Verde Training and Kathi Kruse of Kruse Control Inc.
The event's in-depth coverage and interviews can be seen at http://www.cbtnews.com. If you are interested in being a guest during the media coverage, please contact CBT News by email at newsroom (at) cbtnews (dot) com.
CBT News, also known as Car Biz Today, is an online news source dedicated to providing the retail automotive industry with news, training and event coverage through various forms of multi-media journalism. The online news source is viewed by thousands of car dealers and provides daily newscasts covering topics catered to the North American automotive dealer. CBT News is home to award winning broadcasters and is headquartered in Alpharetta, Georgia.
Visit CBT News on the Internet at http://www.cbtnews.com