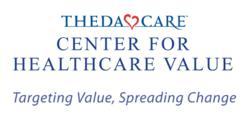 Appleton, Wis. (PRWEB) February 05, 2013
The ThedaCare Center for Healthcare Value released Power of Peer-to-Peer, a new white paper that focuses on the importance of a peer-to-peer learning structure and highlights the benefits of this kind of learning, particularly among Healthcare Value Network (HVN) member organizations.
These benefits include learning from like-minded organizations, sharing experiences, connecting with other leaders who have similar objectives and getting sustainable results. The white paper also outlines a variety of opportunities HVN members have to collaborate, including gemba visits, assessments, webinars, education and training, resources and affinity groups.
"If you've ever considered peer-to-peer learning or are curious to see what is involved, this white paper is for you," said Mike Stoecklein, director of network operations for the Center. "It does a good job of showcasing the many ways Network members work with each other to get results."
ThedaCare Center for Healthcare Value
The ThedaCare Center for Healthcare Value is transforming the healthcare industry to deliver higher value through experiments, collaboration and education that integrate three interdependent components: delivery, transparency and payment. In these areas, the Center spreads learning and accelerates improvement. Learn more at: http://www.createvalue.org.