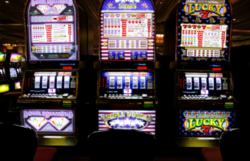 Ottawa, Ontario (PRWEB) February 07, 2013
Hotels, casinos restaurants and other businesses are reporting significant expense savings—multimillion dollar savings if fully adopted—through simple conversion to LED lighting, reported the G4 Report in their inaugural issue of an online magazine for business owners and interior designers.
The G4 Report also reported on the major savings realized by Potawatomi Bingo Casino in Menoonee Valley, simply be replacing metal halide lighting with high power LEDs in the parking lot. "It is estimated, by the casino industry, that each slot machine can realize a savings of $86 per year," said Mr. Newman, editor of the G4 Report. "This is a substantial multi-million dollar potential savings."
Overhead, under-counter, and decorative applications in Casinos and hotels are only the beginning of an astonishing return on investment. Now, with technologies improving, the hospitality and retail industry and lighting parking lots, pool, exterior decorative lighting, sky spotlights, and even slot machines. In addition to the suitability of LEDs for these solutions, they also offer amazing cost savings and ROI at very acceptable rates, with a low carbon footprint.
The G4 Report also carried stories in the inaugural issue focused on interior designers, who can really exploit the versatility and customizable qualities of LED lighting. Applications such as creative light sculptures, animated displays, low-heat store displays and various colors of lights open up endless possibilities for daring interiors or exteriors. "Health care applications are improving our well-being. Businesses and home-owners are saving substantial energy," said Mr. Newman.
"LED lamps are becoming mainstream in business applications due to dramatic savings on operating expenses, and the technology improves almost daily," said editor Brian Newman of The G4 Report. "LED lighting has very specific benefits to many industries, exceptionally so in retail and hospitality industries, and the G4 Report's mission is to report on these applications to business owners."
Viewable online, and also available as an emailed e-zine, The G4 Report, Your Guide to LED Lighting, also covers business applications, design tips, and new product launches, reported in four beats:

Sustainability: how LED lighting measurably improves carbon footprint, sustainable use of energies, with special emphasis on economic benefits of lower energy usage and longer life.
Innovations: covering the technologies that make LED lighting the ideal energy-saving lighting choice for any home or business, including news on new technologies, patents and releases
Well-Being: supporting the concept that low-heat LED bulbs are a healthy addition to any home or office, and special coverage on health applications
Interiors: with the broad spectrum of colour and lighting patterns, LED lighting as the designer's and architect's choice for improved interiors, including special coverage of unique applications such as art galleries, manufacturing plants, health facilities and, of course, the home.