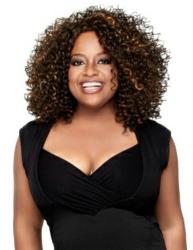 Los Angeles, CA (PRWEB) February 04, 2013
Be sure to tune into the Rachael Ray show Monday, Feb 4th. LUXHAIR will be showing off their new collection of wigs by Sherri Shepherd. There will be celebrity and audience makeovers , giveaways and exclusive offers to purchase online from Wigsalon.com. This new collection of wigs includes 11 ready to wear, high fashion wigs that include bobs, sleek up-do's, pixie cuts and tight curls. Watch the video preview.
Sherri, daytime Emmy Award winning co-host, actress and mom will show how effortless it is to change your look with one of her new wigs. Benefiting from the many years of her experience, Sherri knew that being able to customize your look is very important. In order to achieve this, LUXHAIR used a new "Heat Friendly" fiber which can be gently restyled with heat. The Keralon fiber looks, moves and feels like natural hair.
Sherri will be wearing the hit wig Angled Tomboy , which is a dramatic asymmetric cropped cut that has textured layers packed with volume, movement and personality. Also being featured on the Rachel Ray show will be the wigs , Curl Intense, Luscious Layers and Big Wave Bob. Each very unique, fashionable and available in about twenty different salon inspired hair colors.
Wigsalon.com will be offering customers an additional 20% off all of Sherri Shepherds wigs so be sure to call or use their special VIP Coupon to receive a discount.
If shopping online isn't for you, be sure to stop by the Wigsalon.com wig shop in Los Angeles , CA. They have exclusive low prices on wigs from the worlds top designers like : Rene of Paris & Noriko, Raquel Welch Wigs, Eva Gabor, Jon Renau, Henry Margu, Wigpro, Revlon and much more
Wigsalon.com
10867 W. Pico Blvd.
Los Angeles, CA 90064
1-800-262-8437