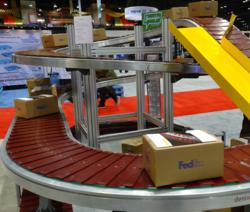 "ProcessWeaver's Multi-Carrier Shipping Solutions were very well received by event host and attendees. Our shipping solutions are a perfect fit for this environment and we look forward to exhibiting new functionalities next year."
(PRWEB) February 01, 2013
ProMat 2013 is the premier showcase of material handling, supply chain and logistics solutions in North America. The show is designed to offer productivity solutions and information by showcasing the products and services of over 700 leading material handling and logistics providers. The event is sponsored by MHI, an international trade association. MHI members include material handling and logistics equipment and systems manufacturers, integrators, consultants, publishers, and third party logistics providers.
Over 700 exhibitors from industry, commerce and government displayed their productivity solutions on the 300,000 net square foot show floor. ProcessWeaver exhibited a full suite of inbound and outbound shipping solutions. The show attracted professionals from over 110 countries, looking to find productivity, visibility and cost-cutting solutions for their manufacturing, distribution and warehousing operations.
ProcessWeaver with its xCarrier® Mobile enterprise application for multi-carrier shipping was among the nominees for The ProMat Innovation Award in category Best New Innovation. This Award serves to educate and provide valuable insights on the latest manufacturing and supply chain innovative products and services to ProMat attendees.
Zebra Technologies and ProcessWeaver hosted a networking reception on the evening of January 23rd, at McCormick Place, Chicago, IL and successfully gathered trade show attendees to exchange experiences on the manufacturing, supply chain, material handling and logistics field.
Martin Garza, Director of Sales for ProcessWeaver, met with many customers, partners and curious attendees to discuss cutting-edge shipping functionalities. Martin Garza said: "ProcessWeaver's Multi-Carrier Shipping Solutions were very well received by event host and attendees. The warehouse features was all around the floor, with forklifts, racking, and conveyor belts. Our shipping solutions are a perfect fit for this environment and we look forward to exhibiting new functionalities next year."
About ProcessWeaver®:
ProcessWeaver is a leader in providing automated multi-carrier compliance shipping software for customers worldwide. ProcessWeaver solutions work with multiple carriers e.g. FedEx, UPS, DHL, USPS, TNT, Purolator, LTL, and TL as well as with freight forwarders. ProcessWeaver's Suite of products offers a simple, reliable, fast, and cost-effective way to address the critical business problems with its comprehensive list of proven solutions that can be deployed right within the SAP landscape or as a platform independent web application.
For more information about ProcessWeaver®, please visit: http://www.processweaver.com or email at info(at)processweaver(dot)com or call +1 888-932-8373.