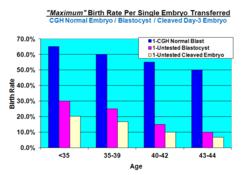 In the absence of a common denominator, clinics naturally use the statistics that put them in the best light, and patients are left to sort out the truth on their own.
Las Vegas, NV (PRWEB) February 01, 2013
The Sher Fertility Institute announced today that the Institute's founder and Executive Medical Director, Geoffrey Sher, MD will be hosting a live webinar on February 6, 2013 to shed light on the topic of IVF Success Rate reporting. The webinar precedes the release of the national report on IVF clinic success rates by the Centers for Disease Control (CDC).
The annual report will provide clinic specific IVF success rate statistics for the year 2011 and will be available for patients to review and interpret as an aid in selecting a clinic to provide their fertility treatment. But Dr. Sher believes that the report can be misleading to uninformed patients.
"Most of us have heard the saying often credited to Mark Twain, 'There are three kinds of lies: Lies, Damn Lies, and Statistics,'" said Dr. Sher. "Well, unfortunately, IVF success rate reporting is a perfect illustration of this point."
According to Dr. Sher, a renowned fertility specialist, the problem with the report is twofold. "First, there are multiple measures of 'success' with no universal standard for comparing apples to apples," he said. "In the absence of a common denominator, clinics naturally use the statistics that put them in the best light, and patients are left to sort out the truth on their own. Second, success rates aren't reliably verified by a full independent audit, which leaves the door open for unethical clinics to manipulate the data that they submit."
Dr. Sher has been on a crusade for 25 years to standardize and verify the reporting of success rates for IVF in order to make them more meaningful and relevant to prospective IVF patients. "When an IVF clinic claims a 50% success rate, it could mean that 50% of their patients get pregnant. It could also mean that 50% of their procedures result in a live birth or that 50% of the embryos they transfer to a patient's uterus make babies," said Dr. Sher. "The problem is that the consumer isn't sure which standard they're using, and another clinic that they are considering might be using a different measuring stick."
Dr. Sher has long advocated a more standardized measurement of success rates. "First, we need to divide the statistics into categories by diagnosis, rather than just by age," he said. "Next, the statistics should reflect how many embryos were transferred compared to how many babies were born; embryos in versus babies out. This removes much of the incentive to transfer more than one or two embryos to the patient."
"Finally, as long as the statistics aren't fully and independently audited, they will be suspect."
Dr. Sher has put his money where his mouth is when it comes to audits of IVF clinic success rates. He was the first to contract an independent audit of his own clinic's success rates in 1987. He currently tracks all of his clinics' success rates using a proprietary database known as "Outcome Based Reporting System (OBRS)" that classifies patients based on age as well as "categories of complexity."
His success rates are outstanding by any measurement, with 50% of his patients treated in 2012 under age 38 having babies or currently pregnant, 43% of patients age 38-40, and 17% of patients age 41-43. His patients using egg donors had an outstanding success rate of 80%, regardless of age.
Dr. Sher will be hosting a live webinar on Wednesday, February 6, 2012 at 5:30pm Pacific Time, where he'll discuss IVF success rate reporting and the shortcomings of currently published data. It can be viewed HERE. He also recently wrote a blog post that discusses the current system of IVF success rate reporting in detail. It can be viewed HERE.
About Geoffrey Sher, MD
Dr. Sher is the founder of Sher Institute for Reproductive Medicine and a world-renowned leader in the field of infertility and In Vitro Fertilization. He established the first private IVF clinic in the United States 30 years ago and has been influential in the births of more than 18,000 babies through his clinics. Dr. Sher has helped pioneer many breakthroughs in the field of reproductive medicine that have become standard practice in the industry. More information can be found on the Sher Institute website at http://www.haveababy.com.