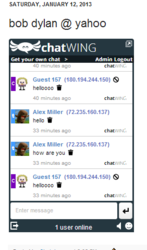 Cambridge, MA (PRWEB) February 01, 2013
Traffic is the most contested aspects in every website today. Based on many online studies, traffic can determine if a website can manage to outlast competition. Chatwing, a company that focuses on the improvement of online chat, has recently integrated new features in its chat software. These features include social media login, background image, MP3 upload, advanced customization, and reliable admin accessibility. The company assures that bloggers and website owners can benefit from these new key features.
The company's developers focused, primarily, on the way web users gather information. Since this is the age of social media, Facebook and Twitter integration would prove to be useful. Currently, the company has added Google and Yahoo login methods. This strategy widened the reach of the Chatwing chat box. Customization is also now on a better scale. Registered Chatwing users can change the overall appearances of the chat platform as often as they want. Background images are available for selection. The platform also allows users to upload any MP3 song link they want, provided it is valid and working.
The shoutbox was tested by bloggers during the first few weeks of January. It received numerous positive feedbacks and comments, as well. These comments were usually about the login methods and the rate of importance of the chat app in every online niche. This gave way to the improvement of the chat tool's admin functions. Now, users can ban members, delete messages in one click, and even add many moderators.
In the approaching months, the company will create more improvements to its chat platform. These improvements will ensure that web users can get the most from their browser chat experience. The developers will also keep the Chatwing Facebook page update to keep users well-informed.
About Chatwing.com
Chatwing.com specializes in the new field of website chat. Over years, the development team has introduced live chat widget for hundreds and thousands of blogs. The application bridges people from many parts of the world, creating global synergy through the Internet. The shout box can be installed in just seconds, and it can be used for varying purposes such as leisure and Internet marketing. It also allows a user to customize the size, color, and name of the widget.