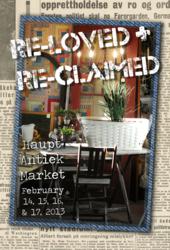 Award winning, Haupt Antiek Market offers up antique and vintage shopping at their monthly 4 day market .
Apple Valley, MN (PRWEB) February 05, 2013
Haupt Antiek Market an antique and vintage "occasional sale" in Apple Valley, Minnesota was honored to be voted the #1 Antique Store for the 2013 Sun Media Readers' Choice Awards. Winners are selected during a six week voting period by print and online readers.
Haupt Antiek Market began in Deb Haupt's garage in Eagan and then blossomed into a "real" retail location in Rosemount for 6 years and now after purchasing their own building, they have been very happy in Apple Valley, MN for the past 3 1/2 years. Our antique market has a unique business plan, said owner, Deb Haupt. " We are only open 4 days a month and each month we have a new theme and new "vintage" inventory".
She draws people from all over the local area, state and even nation wide. People want to see what the fourteen dealers that make up Haupt Antiek, come up with for inspirational ideas, creative decorating schemes and fun and unique ways to re-purpose vintage and antique decor for their homes and gardens. February 14 -17, 2013, Haupt's theme is "Re-Loved & Re-Claimed.
Look for inspiration for vintage wedding ideas and other special events using re-claimed and re-purposed antiques. Customers think of Haupt Antiek as "Pinterest" come alive! Event Planner, Clare Hoelderle , owner of The Red Bench, Vintage Event Rental & Design will present vintage wedding decor advise, Saturday, Feb 16, 10am-12pm. This is a free event.
A loyal following of customers that enjoy Haupt Antiek Market's retail plan of "Event Shopping" honored them by voting them the Best Antique Store for the Readers' Choice Awards. Haupt Antiek Market is located at 7570 W. 147th St. in Apple Valley, MN 55124. http://www.hauptantiek.com for more information or email: deb@hauptantiek.com.