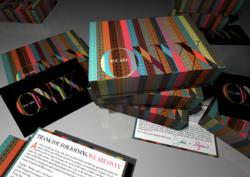 Los Angeles, CA (PRWEB) February 01, 2013
WeAreOnyx.com officially launches as the first ever online beauty platform dedicated to Black women. The site lets users learn from Beauty experts who look like them, shop recommended products directly from the video page and sample everything before they buy in the monthly OnyxBox™ – and membership is only $20 a month.
The site positions itself as a one-stop online beauty destination dedicated to Black women, a demographic the founders deemed too often ignored by marketers. Its mission is to celebrate the diversity of hair types and skin tones represented in our global mosaic. "We couldn't help but notice this key demographic not having a place to go to for their beauty needs," said Delali Kpodzo and Myriam Bocobza, creators of We Are Onyx™, "so we felt it was our duty to create a platform to do just this."
The Story
Delali Kpodzo and Myriam Bocobza were on their way to brunch, in West Hollywood, California. Kpodzo was snoozing in the backseat of Bocobza's car from exhaustion, which intrigued Bocobza very much. Prompted by her friend's queries, Kpodzo launched into one of those unbelievable-but-true accounts of the multiple twists and turns she'd lived through the day before to wash her very own kinky hair.
When her usual hairdresser had canceled on her that Saturday morning, Kpodzo knew she would never be able to get an appointment with another stylist on such short notice. A painfully exhaustive round of calls to her entire contact list later, she was able to confirm her hair-anxieties were justified. She would have to handle this one herself.
Kpodzo had no idea it would take 12 solid hours to master her beautiful kinks through shampooing, conditioning and detangling - ready to be braided again. This would also include 7 hours of desperately searching online for the relevant information. It seemed absolutely inconceivable that she was left to the randomness of Google and Youtube to get such basic information about her own hair. It seemed even more inconceivable that even in a city the size of Los Angeles, finding products suitable for her specific needs was still a struggle.
It suddenly hit the two friends that they could actually do something about this: they could be a solution to this problem. If no available service were good enough, then they could build one that was.
Bocobza works for American Entertainment Investors, a boutique Media Finance & Consulting Firm, whose prestigious client list includes Alcon Entertainment, River Road Entertainment and Exclusive Media Group. She knew if pitched well, she could get AEI to provide funding, and they could start working immediately. Within five months, Kpodzo had left her job with a major film production company, and We Are Onyx™ was born.
How it Works
We Are Onyx™ allows its users to access a library of interactive video tutorials customized to their specific beauty needs, and a wealth of high quality community knowledge specifically tailored to their demographic. The online platform also allows its users to click and sample or purchase the latest in hair, skin and makeup products directly from the video in an affordable and convenient way, with the monthly beauty box - the OnyxBox™ - which is delivered straight to their door.
Everyone is welcome to access all hosts' beauty video tutorials and shop for the right product on the site as a subscriber. Registration is an easy-as-can-be one-step process. Subscribers fill out a two- question True Beauty profile, and are matched up with Onyx Beauty Hosts who share their exact hair type & skin tone – to guarantee direct access to the relevant information.
For only $20 a month, Subscribers can upgrade and become Members.
Members are able to sample all products on the site in their monthly OnyxBox™, which contains four samples they choose themselves from the video tutorials – because they know better; as well as a "Coup de Coeur" sample the WAO team has fallen in love with, and wants to share. Members also get exclusive access to all of the Onyx Experts Content. Experts include Meena Singh, Harvard-trained Dermatologist & Surgeon specializing in ethnic skin; Amandeep Kalsi, Board-Certified Nutritionist and Dietician; Eric J. Allen, Fashion Makeup Artist of International Standing; and Felicia Leatherwood, Celebrity Hair Stylist.
We Are Onyx™ proudly counts among its brand partners: Shea Radiance, Dr. Miracle's, Kinky Curly, Lamik Beauty, Herban Body Care, Beautiful Textures, Beaux Cheveux Essentials, Komaza Care, HairVeda, and more.
About Felicia Leatherwood
Felicia Leatherwood is one of the beauty experts for We Are Onyx. Dubbed the "Hair Whisperer" by her celebrity clientele, this native Californian quickly cultivated her styling talents into a degree in cosmetology. Now her clients include Jill Scott, Kim Coles, Nicole Ari Parker, Tamiko Fraser Hines, Terrence Howard, Anthony Anderson and Hill Harper. With her work gracing the pages of Essence, People and InStyle, as well as many popular movies and television shows, her online presence has grown to a global scale as she continues to conduct her workshops internationally, offering "real-life" guidance for Black women all over the world.