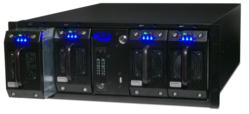 Backing up incremental daily changes to the cloud is great but it doesn't provide a way to do same day restores for large data sets
Reno, NV (PRWEB) February 01, 2013
As data grows the time it takes to back it up does too. Highly Reliable Systems, based in Reno, Nevada, has released the RAIDFrame Plus to address the need for fast large format backup in the SMB market. The system is a network attached storage (NAS) appliance built for backup with removable drive packs. The 4U rack mount product is configured using any browser (headless) or with a local monitor and keyboard and works with most popular backup software.
Darren McBride, CEO for Highly Reliable Systems says the title for the largest removable backup media has belonged to the firm for several years now. They use cartridges called RAIDPacs that include 3 SATA drives and an integrated RAID 0/5 controller. Each RAIDpac can store up to 12TB using 4TB drives. The RAIDFrame Plus holds up to 4 packs. "Backing up incremental daily changes to the cloud is great but it doesn't provide a way to do same day restores for large data sets" says McBride.
A key feature of the product is the ability to transparently mirror RAIDPacs. RAID0+1, RAID5+1, JBOD, multiple mirrors, and scheduled mirroring are all supported. Duplicated RAIDPacs can be pulled while keeping a primary pack online, which means that the backup software never sees the backup volume change. McBride says this assures maximum software compatibility. Mirroring also means the NAS can provide primary storage for users, while automatically creating a "softwareless backup" to additional RAIDPac(s). Data is mirrored at up to 850Gigabytes per hour so when a 12TB RAIDPac is swapped it duplicates to the new one in about 14 hours.
RAIDPacs are completely self-contained, and designed to be accessed without the RAIDFrame by plugging them into SATA or USB 3.0 ports. The appliance attaches via Gigabit Ethernet (10 Gig-Ethernet optional). RAID management software is provided that will email the user upon failure. Alternatively, remote monitoring and management tools can be used. A Windows Storage Server version of the product is available, and both versions will join Windows Domains. For more information visit http://www.High-Rely.com or call 775-322-5397