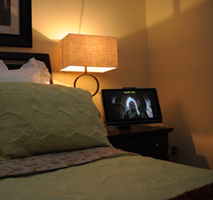 The SimpleC Companion gives residents freedom and autonomy while at the same time keeping them safe.
Atlanta, Ga. (PRWEB) February 04, 2013
At the Ivy Ridge Living Memory Care center in St. Petersburg, Fla., keyless locks, motion sensors, state-of-the art hydrotherapy, and other cutting-edge technologies are safely promoting resident independence without the use of drugs. At the cornerstone of this emphasis on technology is the SimpleC Companion, an interactive touch-screen therapy tool customized for each resident.
"The SimpleC Companion gives residents freedom and autonomy while at the same time keeping them safe," said Delane Ward, Ivy Ridge executive director. "We follow a homeopathic approach as much as possible, and we don't want to medicate a resident unless it's absolutely necessary. Now, if a resident becomes stressed or has a behavioral issue, we can redirect them using images and voice recordings of their family members on the SimpleC Companion."
Effective, non-pharmaceutical brain therapies such as the SimpleC Companion offer benefits to the residents' loved ones as well.
"Families absolutely love the SimpleC Companion," said Ward. "I've been in health care for 25 years, and in the past, the family of an agitated resident would have to be called so that they could help calm their loved one over the phone. Now, families can remain involved and connected through SimpleC voice recordings, without having to be called directly to help resolve smaller issues."
The SimpleC Companion is an intuitive touch-screen that promotes memory, engagement, and better communication for seniors. During key times throughout the day, the unit is activated and delivers scheduling help, such as activities and mealtimes, and also behavioral interventions for under stimulation, sundowning and aggression - all without the use of medications. Users receive rich visual cues such as their own family photographs, and hear meaningful audio such as preferred pieces of music and personalized messages recorded by family members or a favorite caregiver, to stimulate positive memories and foster healthy daily routines. With The Companion, SimpleC has created a solution that improves the quality of life for those living with Dementia and Alzheimer's, while also focusing on caregivers and providers, and the ways they can save time and money.
For more information, visit http://www.SimpleC.com.