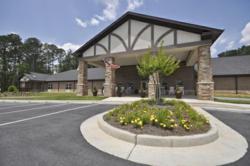 We consider the SimpleC Companion to be the most innovative non-drug therapy available for treating dementia.
Atlanta, Ga. (PRWEB) February 04, 2013
Legacy is created in work well done, in families lovingly raised, and perhaps most importantly in stories shared with younger generations. For individuals diagnosed with Alzheimer's disease and other memory-related disorders, though, that legacy can often be lost.
However, in Cumming, Ga., memories are being rekindled at Dogwood Forest's Inspirations Neighborhood. The senior living facility's specialized memory-care community features the SimpleC Companion, a personalized touch-screen therapy that uses visual and auditory cues to foster recall without the use of drugs.
"One resident uses the Companion to reminisce about the days on her farm in South Georgia," said Misty Criddle, care specialist with SimpleC. "It has been loaded with photos from cotton fields, peach orchards, and farm animals. She says the pictures remind her about how wonderful life has been. Recently, she told me a story about how as a child she would play in the white cotton on the farm after it had been picked."
"We consider the SimpleC Companion to be the most innovative non-drug therapy available for treating dementia, and we're proud to offer it to our memory care residents," said Carmen Duren, Dogwood Forest's executive director. "It is a privilege to hear the residents' stories and share in their continuing legacy."
The SimpleC Companion is an intuitive touch-screen that promotes memory, engagement, and better communication for seniors. During key times throughout the day, the unit is activated and delivers scheduling help, such as activities and mealtimes, and also behavioral interventions for under stimulation, sundowning and aggression - all without the use of medications. Users receive rich visual cues such as their own family photographs, and hear meaningful audio such as preferred pieces of music and personalized messages recorded by family members or a favorite caregiver, to stimulate positive memories and foster healthy daily routines. With The Companion, SimpleC has created a solution that improves the quality of life for those living with Dementia and Alzheimer's, while also focusing on caregivers and providers, and the ways they can save time and money.
For more information, visit http://www.SimpleC.com.