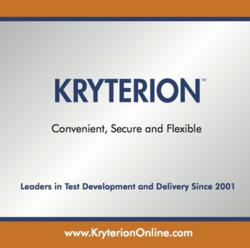 "Kryterion is well positioned to take the lead role in key testing market segments."
- David Meissner
Phoenix, Ariz. (PRWEB) February 01, 2013
Kryterion Incorporated is pleased to announce the appointment of Executive Vice President of Operations, David Meissner to the organization's growing team.
"I am greatly looking forward to helping Kryterion take the next big step in its growth," said Meissner. "Kryterion is well positioned to take the lead role in key testing market segments over the next few years."
Meissner has held key management roles in virtually every area of testing, including test development, systems development, sales and project management. Previously, Meissner worked with Prometric as Vice President of their Solution Services.
At Prometric Meissner was responsible for the sale and development of major programs world-wide. Other roles included Director of United States Operations, Executive Director of Testing Systems Strategy, Executive Director of Test Development and Publication, and Security Director.
Prior to Prometric, Meissner worked with The McGraw-Hill Companies where he spent eight years in software development, quality assurance, usability analysis and business process reengineering.
He is a member of the board of the Association of Test Publishers and will be at the annual Innovations in Testing conference this week.
"I am delighted that Dave Meissner is joining Kryterion," said Kryterion Chairman and CEO William Dorman. "We have ambitious goals and the expertise of Mr. Meissner in the development of operational and testing systems and the implementation of major programs will be very valuable to us in achieving our targets."
ABOUT KRYTERION
Kryterion provides secure testing solutions for the association, technology and distance education markets. Our solutions include: online proctoring, authentication, exam management, security, real-time test delivery and development, psychometric services and professional services.
Follow Kryterion on Twitter @kryterion
Find Kryterion on Facebook at https://facebook.com/kryterion