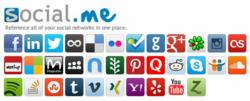 Tampa, FL (PRWEB) February 01, 2013
Personal branding startup Social.me today announced it's ended it's invitation-only beta period and opened the website to the public. The service, which allows users to create a profile that references all of their social networks from one location, had been quietly allowing Internet and social media influencers to reserve their usernames on an invitation-only basis.
"The beauty of Social.me is its simplicity." said Ron Rule, founder of Social.me and known eCommerce expert. "Anyone who is building a personal brand knows the importance of unifying their message across multiple social networks, and there a ton of tools that do that well already. Social.me simplifies sharing your social presence by letting you create a profile that's all about you and the social networks you're a part of."
Initially designed to simplify social media references on business cards and e-mail signatures, the service also doubles as a username aggregator for people who weren't fortunate enough to get the same username on all of their social profiles. "If you're linking to your Social.me page, it doesn't matter if the URL's on your social sites are the same username - the visitor can just click through and follow you." said Rule.
The site, which currently integrates with 34 different social networks and is hosted in a high-availability CDN, also offers tools for showing social media icons on its users' blogs and websites. Rule has stressed the importance of Social.me's "All about you" nature and reminds visitors that it's not a marketing company and doesn't derive any revenue from advertising or links.
Users who are active on multiple social networks are encouraged to reserve their username, and companies and brands are also welcome to register and create their own profiles. Additional sharing tools and profile analytics are already in the pipeline and will be released in the coming weeks.