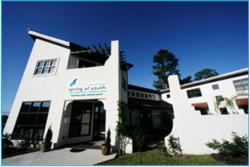 Grand Re-opening Open House on January 31
Ocean Springs, MS (PRWEB) February 01, 2013
Spring of Youth Medical Group, a leading vein and cosmetic treatment center on the MS Coast, has had a busy year already in 2013. The center recently remodeled its facility in Ocean Springs, Mississippi to give its Gulf Coast patients even better service. Following a Grand Re-opening Open House on January 31, the Ocean Springs Mayor will join the celebration at a special ribbon-cutting ceremony, February 1, at 10am.The day before the ribbon-cutting promises to be a special event as well. Spring of Youth Medical Group will host an Open House event featuring free specially-catered culinary creations, and expert health information. All patients and visitors are invited to attend on Thursday, from 5pm-8pm.
Then, on Friday, City of Ocean Springs Mayor, Connie M. Moran, will attend the ribbon-cutting at Spring of Youth Medical Group's new state-of-the-art facility. Mayor Moran grew up in Ocean Springs, MS and was elected Mayor of her hometown in June 2005.
Everyone in the Coastal MS area — and especially those with varicose veins, spider veins, or who are interested in improving their appearance with the latest aesthetic treatments — are welcome to attend the Jan. 31 Open House and the Feb. 1 ribbon cutting. Reservations are required for the Open House, as space is limited. Call 228.283.0077 today to secure a space as a guest at this wonderful event.
About Dr. Hazem Barmada
A practicing physician for over 30 years, Dr. Hazem Barmada is a Cardio-Vascular and Thoracic Surgeon, with special interest in venous and lymphatic disease. As a Cardiac-Vascular surgeon with extensive national and international experience, he has acquired broad expertise in managing venous disease, harvesting veins, and dealing with any possible complications. Since coming to the Mississippi Coast in 2000, he developed both Vascular & Endovascular aspects of his practice including dialysis access, arterial, and venous management. Since 2009, he has focused on expanding his practice in venous and lymphatic disease, and, more recently, in aesthetics and stem cell research.
Dr. Barmada started his career in the US in 1991 when he joined the Heart Institute at St. Vincent Hospital in Portland, Oregon as a Chief Fellow working alongside the world-renowned Cardiac Surgeon, Dr. Albert Starr, the first surgeon in the world to insert a successful heart valve in the heart. He later became an Associate of Cardiac Surgery at Harvard University's Beth Israel Hospital. His prestigious awards and associations include current membership of the Society of Thoracic Surgeons, the Society for Vascular Ultrasound (SVU), the American College of Phlebology, and the American Venous Forum; and fellowship of the Royal Society of Medicine, London, England, and the British Boards in Cardio-thoracic Surgery. Dr. Barmada holds numerous degrees and credentialing certificates including a B.Sc. in Medical Science from St. Andrews University, Scotland; an M.D. from Manchester University Medical School, UK; and medical licenses of several states. He currently holds two US medical patents, and a third pending, for improved medical practices and procedures.
Dr. Barmada's practice, Spring of Youth Medical Group, located in Ocean Springs, MS, services the entire Gulf Coast.
For more information:
Spring of Youth Medical Group
1155 Ocean Springs Road
Ocean Springs, MS 39564
Tel: 228.875.0885 http://www.springofyouthmedical.com