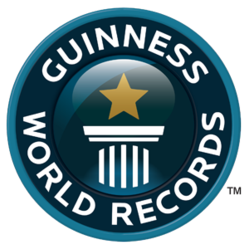 Kobayashi is a legend in competitive eating so it is awesome to have beaten someone of his stature for this record. This is a long ways from my deathbed with Anorexia and yet only the beginning!" - Furious Pete
Santa Barbara, CA (PRWEB) February 01, 2013
Ingrained Media is pleased to announce that its client Furious Pete has obtained his fourth Guinness World Record. On January 30th, 2013 Peter Czerwinski known as Furious Pete set the Guinness World Record for eating a 12" pizza, putting down the pie in an astounding 41.31 seconds. This attempt eclipses the old record of 1:09.36, set by Takeru Kobayashi on 12 Feb 2012 in Tokyo. The attempt, witnessed and overseen by a Guinness World Records official adjudicator, required the use of a knife and fork and the pizza could not be held in the hands or folded. The attempt took place and the record successfully obtained at Big Mama's & Papa's Pizzeria in Burbank, CA.
This marks the fourth entry into the Guinness Book of World Records by Furious Pete. His most recent Guinness World Record was set on Jan 9, 2013, Furious Pete beat his record for the Most Jaffa Cakes eaten in One Minute, shoveling in 17 of the dry cakes. He had previously set this record on May 1st, 2012 in London at the Guinness World Records office eating 13 of the cakes.
Pete commented on the newest record, "Kobayashi is a legend in competitive eating so it is awesome to have beaten someone of his stature for this record. This is a long ways from my deathbed with Anorexia and yet only the beginning!"
In addition to the pizza and Jaffa cakes, Pete also holds the record for Fastest Time to Eat a Raw Onion (43.53 seconds), and the most Ferrero Rocher in one minute (9). You can follow Furious Pete on his website and his YouTube Channel, YouTube.com/FuriousPete.
About Furious Pete:
Furious Pete is a successful YouTube personality as well as host of 'Furious Eats' a world food and travel show airing on the Abenteuer Leben - Kabel eins network in Germany. He is a BodyBuilding.com Sponsored Team Athlete as well as professional competitive eater. He holds multiple Guinness World Records and many competitive eating titles.
About Ingrained Media:
Ingrained Media is a full service boutique Marketing & Talent Management agency representing professional MMA fighters, PRCA cowboys, YouTube personalities, Olympic medalists and other celebrity clientele in their Talent Management division. They also provide Marketing services to many brands looking to service the 18-35 demographic and have extensive experience and knowledge in Advertising, Branding, Public Relations, Business Consulting, Social Media and other areas.
Contact:
General Information
Contact: Info (at) IngrainedMedia (dot) com
Press and Media Questions:
Contact: Bob Donaghy
Email: Bob (at) IngrainedMedia (dot) com