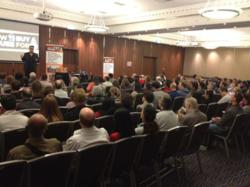 Most people today purchase or sell a property for a reason – either they want to get away from their debts or increase their investment.
(PRWEB) February 01, 2013
Current statistics prove demand from home buyers remains weak and house prices continue to fall despite continuous interest rate cuts from the Reserve Bank. "Every time interest rates have been cut over the last 20 to 30 years there has been a response in the housing sector. We haven't seen the same response this time," chief economist for AMP Capital Investors, Shane Oliver.
Because interest rate cuts no longer affect the property market, property strategist, Rick Otton and his team decided to continue with his series of one-day training seminars to discuss alternative investment strategies that would help stimulate homebuyers.
"Most people today purchase or sell a property for a reason – either they want to get away from their debts or increase their investment. Underlying their specific reasons are problems that they want to solve. And generally, these problems involve money," Otton explained.
Obviously, the interest rate cuts did nothing to help the property market recover. This is why people continue to seek alternative and creative property investment strategies to help them solve their problems. And Otton's creative real estate strategies come in perfect timing.
Creative Real Estate by Rick Otton
"If you've been searching for a proven way to build wealth in real estate without risking your own money even if you can't get bank finance, I invite you to come to one of my training seminars this February," Otton said.
Otton's powerful real estate investing formulas have allowed thousands of individuals buy their first homes or build a property portfolio that isn't reliant on getting bank financing. Otton's students have bought thousands of properties, proving his strategies work in any location and any market cycle.
One of the many students of Rick Otton is G Thomas, former developer from New South Wales. "I've been around real estate for a fair while as a developer. Rick has taught me a lot more about negotiating and how to fix problems. Now I'm able to go out and fix other people's problems, which has also created a great income for myself," Thomas said.
One Day Training with Property Guru, Rick Otton
Mr. Otton has been sharing his breakthrough strategies since 2001 through various mediums that include seminars, boot camps, and his real estate book. This February, he will continue his series of one-day training seminars starting on the 10th and 16th at Sydney, on the 17th at Brisbane, on the 23rd at Melbourne, and on the 24th at Perth.
Among the many things that Otton will discuss in these seminars are purchasing properties without worrying about interest rates, how to structure no money down deals, making properties irresistible to any buyer, and talking to and closing deals with buyers and sellers over the phone.
Register for your free seat at HowToBuyAHouseForADollar.com
About Rick Otton
Rick Otton has spent decades making money by snapping up inexpensive real estate and putting it to work building wealth. Now, he's teaching other Aussies how to do the same.
Otton is the founder and CEO of We Buy Houses, which operates in the U.S., U.K., Australia and New Zealand putting his strategies to work every day.
Otton got his start in alternative real estate investment in 1991 and within a year acquired 76 properties. In years after, Otton made a fortune using his low-risk, high-reward strategies to inexpensively acquire real estate.
Now, Otton wants to share the wealth by sharing the wisdom, teaching Aussies how to buy and sell real estate without cutting banks and other middlemen in on the deal.
Otton has been featured in a variety of television programs and magazines, including Today Tonight, A Current Affair, Australian Property Investor and more.
You can learn more about Otton and how to invest in residential real estate without using banks at RickOtton.com