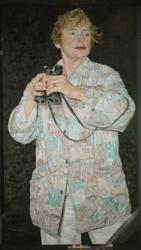 "Cliftons provides an unprecedented platform to showcase artists' works to tens of thousands of people across Asia Pacific, providing artists with invaluable exposure," says Vivian Falk, winner of the Cliftons Art Prize 2012
Asia Pacific (PRWEB) February 03, 2013
Cliftons, the leading provider of training and event venues launched its annual Art Prize Competition this week. Started in 2001, the Competition supports local artists and encourages corporate patronage of the arts. The Competition is back for another year and Cliftons is calling for entries from artists across Australia, New Zealand, Hong Kong and Singapore by early April.
"Cliftons provides an unprecedented platform to showcase artists' works to tens of thousands of people across Asia Pacific, providing artists with invaluable exposure," says Vivian Falk, winner of the Cliftons Art Prize 2012 and finalist in the Doug Moran Prize 2012.
Every year, Cliftons Art Prize attracts established and emerging artists across Asia Pacific. Entries are submitted online to the Cliftons Art Prize website, where the artworks are reviewed by a panel of independent judges. One winner at each of Cliftons' ten venues will be awarded US$2,000 and the chance to compete for the coveted Cliftons Art Prize, US$10,000.
"Visual excellence enriches the learning experience at our venues. With the Cliftons Art Prize Competition, we continue to promote burgeoning artists who shape the art communities. We look forward to receiving the submissions this year and hope artists benefit from the exposure garnered from the Competition," says Andrew Cameron, Cliftons Managing Director.
State and regional prizes will be awarded in Sydney, Melbourne, Canberra, Brisbane, Adelaide, Perth, Wellington, Auckland, Hong Kong and Singapore during June and early July 2013. The winner of the Cliftons Art Prize will be announced mid-July 2013.
An international panel of eminent judges will select the winners of the competition. Returning to the judging panel are Tim Abdallah, National Head of Art, Menzies Art Brands; Ian Hamlin, President, New Zealand Academy of Fine Arts and David Bromley, Prominent Australian Printmaker. Hong Kong based art critic, curator and writer, John Batten is joining the panel for the first time.
The deadline for submissions is 2nd April 2013, 5pm local time. Finalists and winners will be selected from artworks submitted online via http://www.cliftonsartprize.com.
About Cliftons
Founded in 1997, Cliftons is the leading provider of event and training venues, seamlessly delivering total event solutions around the globe. A privately held company headquartered in Sydney, Australia, Cliftons' award winning venues are situated in CBD locations across Asia Pacific. Cliftons' expertise lies in designing superior environments that enhance the learning experience, and providing dedicated service teams passionate about delivering their customer's vision. Innovative venues are designed and built specifically for computer training, seminars, meetings and corporate events.
About Cliftons Global Affiliates
Cliftons' network of over 6000 global affiliate venues in 2,500 cities and Cliftons' experienced service teams ensure client events and training programmes run seamlessly, wherever they are.
To learn more about Cliftons or request additional information visit http://www.cliftons.com.