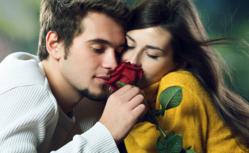 California Flower Mall has bargain blooms for every Valentine gift-givers budget, offers the convenience of later evening hours, and free admission. CFM is open round the clock from 4 a.m. Wednesday February 13 through 7
Los Angeles, California (PRWEB) February 01, 2013
Cautious Cupids are learning to buy cheap Valentine's roses at the LA Flower District California Flower Mall that look like they spent a fortune. "Budget minded guys are learning that a dozen long stemmed red roses don't own the romance market and they're saving up to 70% on DIY Valentine's roses without looking cheap," said Mark Chatoff, California Flower Mall Owner and President.
Like the path to love itself, the flowers that express it are not one size fits all. "Guys often think 'roses,' because Valentine's roses are what they know," said Hilda Jimenez, California Flower Mall Operations Manager, adding "They are always open to suggestions about other Valentine's flower gifts that deliver a deep discount price tag and delight sweethearts. We recommend huge, colorful Valentine's flower bouquets that 'pop' with luscious mixes of less expensive, but, equally gorgeous peonies, garden roses, tulips, ranunculus and gerberas."
Love is in the air this Valentine's Day but consumers aren't quite ready to shell out the big bucks as they were last year, according to the National Retail Federation 2013 Valentine's Day spending survey. It shows only a slight increase in expected sales this year. One-third of Valentine's gift givers (36.6%) will give flowers, with total flower gift spending expected to top $1.9 billion. Valentine's Day is still one of the biggest gift-giving holidays, with spending expected to reach $18.6 billion and men are the biggest spenders. The survey shows the average male will spend an average of $175.61 on jewelry, flowers, and a romantic evening out.
Valentine's Day is the second largest flower holiday of the year for our 8 block downtown Los Angeles Flower District community. "This is one of the largest concentrations of flower industry wholesalers in California and the nation. California Flower Mall's DIY customers save on gorgeous farm fresh Valentine's roses because they are buying where the floral trade shops -- direct from wholesale flower market distributors," Chatoff said.
Chatoff and other Los Angeles Flower District observers have noticed that smaller wholesale businesses are cautiously holding off on Valentine's rose order transactions until the last minute. "They got the scent of what the NRF poll shows and small flowers wholesalers are not doing transactions now – this will pick up as we get closer to the Valentine's Day and every one will make money – but today it's eerily quiet."
Celebrating Valentine's Day isn't always for couples the NRF survey shows; though people plan to spend the most on their significant other ($73.75), 60.6 percent of shoppers plan to show their appreciation for other family members and will spend an average of $26.46. One-quarter (25.2%) of celebrants will buy gifts for friends, spending an average of $8.49, and 13.2 percent say they will buy Valentine's Day gifts for their co-workers, planning to shell out an average of $5.12 on their colleagues. Consumers haven't forgotten about their four-legged friends either: two in five (20.0%) Americans plan to buy gifts for their pets this year, with total spending expected to reach $815 million.
The Los Angeles Flower District California Flower Mall serves up wholesale and DIY deep discount bargain blooms for every Valentine gift-givers budget and offers the convenience of later evening hours, free admission. CFM opens round the clock from 4 a.m. Wednesday February 13 through 7 p.m. Valentine's Day, Thursday February 14.
About California Flower Mall: The California Flower Mall located at 825 San Pedro Street is one of the largest premier DIY wholesale flower marts in Downtown Los Angeles Flower Market neighborhood. The 8 block Los Angeles Flower District is the largest community of wholesale flower market s and flower businesses in the U.S.