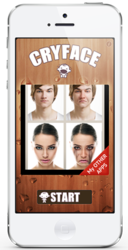 It's the most fun you'll have making yourself and all your friends cry.
San Francisco, CA (PRWEB) February 15, 2013
iPhone and iPad users who want graphics that will bring tears to their eyes or wonder how they or their friends might look with damp cheeks, or a quivering lip and a stream of tears with smudged mascara, can now have their wish fulfilled thanks to the hilariously fun new app CryFace.
Designed by Tav Shande, CryFace is a remarkable image editor app that lets users instantly make any person's face appear to cry. They simply use the app's simple interface to play with photos taken from the camera, photo library, or Facebook, and see how they or their friends could look while sobbing. They can also use the app's handy Gallery feature to view their before and after photos.
For even more personalization users can use the app's Meme Text Generator to create and send their own inventive messages embedded right onto the photo and show the entertaining results to their friends via social sharing.
"Claire Danes has, quite possibly, the greatest cry face of her generation?" stated Tav Shande. "Well, now with CryFace, you can give her a run for her money using the CryFace crying engine to manipulate any photo and unleash your inner cry baby. It's fun, easy to use, and it's an app that really creates an emotional image we can all relate to. We have all cried at one point in time or another, now with Cry Face you can cry on command. It's the most fun you'll have making yourself and all your friends cry."
CryFace, the hilarious and fun image editor app that lets iPhone and iPad users take command of their tears and make anyone appear to cry, is available now on iTunes at https://itunes.apple.com/us/app/cry-face/id581703403?ls=1&mt=8. The app requires iOS 4.3 or later.