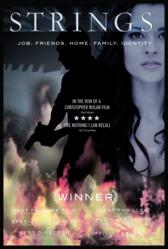 if you show them a two-minute trailer for the movie beforehand, they're more apt to read the screenplay
AUSTIN, TX (PRWEB) February 01, 2013
LA-based Texas filmmakers, Mark Dennis and Ben Foster, return to Austin this week to shoot a proof-of-concept for their sophomore directorial effort "Enduro." Following the release of their feature debut, STRINGS, Dennis and Foster collaborated on the storyline for the psychological thriller, Enduro, over the internet for seven months while Dennis rode a motorcycle from Texas to Argentina. "Mark left on his motorcycle the day after our Strings DVD release party in Austin and ended up in Argentina several months later with a completed script," says Foster who runs their production company, Pad Thai Pictures from Los Angeles.
"Once we had a solid project, the next goal was fundraising. These days, the most effective way to do that is to show investors a compelling two-minute trailer for the screenplay," says Dennis. Calling in favors over Facebook, Dennis and Foster are shooting the trailer in Austin, TX where Strings was predominantly shot. "There are so many people who are open to helping out and our connections get us much further in Austin when we're shooting for next to nothing," says Foster.
The directors are working with several familiar faces from Strings and collaborating for the first time with rising stars Devin Bonnée and Johnny Walter, slated to play the leads in the Enduro trailer. The project shoots on the Red Epic camera in Austin February 8th-12th and is expected to go into principal photography later in the year.