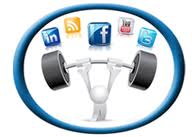 This is something that we always advocate for in our own marketing: really speaking to your intended audience in terms they understand.
Australia (PRWEB UK) 3 February 2013
According to an article on News.com.au titled "Exercise revolution: The overweight-only gym", there is a fitness chain in the United States called Downsize Fitness that only accepts people who are at least 23 kilograms overweight. The recent news sparked an excited commentary from Co-Owner of Marketing for Gyms, a marketing firm specialising in gym marketing.
"This is a great example of finding a profitable niche and really committing yourself to it. By aiming at a specific market, their marketing messages can be more targeted, and in turn appeal more to their audience," said Sean Bridger, Co-Owner of Marketing for Gyms.
"This is something that we always advocate for in our own marketing: really speaking to your intended audience in terms they understand. The problem with this is that most businesses aren't that clear on who their intended audience are. By niching in a particular market, it becomes a lot easier to figure out what to say in your marketing," he continued.
The downside to specialising in a particular market is that these gyms need to have special equipment.
"Cost is a consideration. I know in the article, they mentioned that Downsize Fitness had to get special equipment that could support heavier people and also trainers who had specialised knowledge in obesity," said Mr. Bridger.
"But part of that is a good thing, because if there weren't a barrier to entry, then these gyms would have much more competition. Because they were willing to do something most other gym owners weren't willing to do—commit to investing in specialised equipment and trainers—they develop a very clear competitive advantage," he continued.
A similar gym concept in Australia is the women's only gym Fernwood.
"Both Fernwood and Downsize Fitness boil down to bringing together people who might get intimidated in a traditional gym setting. It's creating a safe haven for them to work out in, and that's brilliant. In our work, we've seen that part of the reason people stop being motivated about working out is that there are hidden barriers. One of those hidden barriers is the discomfort some may feel around beefy gym-goers," said Mr. Bridger.
Gym owners who need help marketing their gym can contact the experts at Marketing for Gyms.
About Marketing for Gyms
Marketing for Gyms was established by Brad Cusworth and Sean Bridger after they identified a huge opportunity to educate Gyms and Personal Trainers about effective online marketing strategies to generate more members and retain current clients. After doing some extensive market research they soon realized that a very small percentage of Gyms and PT's were effectively using online strategies in their business and many were still using very outdated marketing methods such as letter box drops, flyers and banners to promote their services.
Marketing for Gyms offers a wide range of services including Website Creation, Custom Facebook Fan Pages, YouTube Channel Design, Twitter Backgrounds and Video Tutorials teaching effective marketing strategies. Marketing for Gyms has also teamed up with other leading professionals in the areas of Offline Sales & Marketing, Search Engine Optimization, Filming & Photography, Video & Mobile Marketing, Direct Debit Payments and PT Business Systems.
Marketing for Gyms has worked with Les Mills, Australian Fitness Network, Genesis Health Clubs, Contours, YMCA, Anytime Fitness, Re-Creation as well as a number of private clubs throughout Australia and the United States. Marketing for Gyms has also worked with Adro Sarnelli and Bob Herdsman, winners of The Biggest Loser Australia series in 2006 and 2009.
Marketing for Gyms is a total online & offline solution to take your Gym or Personal Training Studio to a whole new level using a combination of simple but incredibly powerful strategies.
Gyms and personal trainers can consult Marketing for Gyms for a comprehensive online marketing strategy.
Media Contact:
Contact Name: Sean Bridger
Company Name: Marketing for Gyms and PTs
Contact Email: sean(at)marketingforgyms(dot)com
Contact Phone: +61 434 267 616
Website: http://marketingforgyms.com