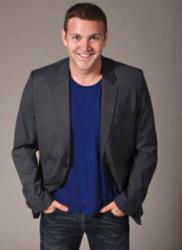 There's no fine print here - either students go up by over 200 points in under 30 days, or their parents don't pay a cent. It's a simple promise behind a very carefully developed program.
New York, New York (PRWEB) February 01, 2013
With less than 40 days left until the March 9th SAT, students and parents around the country are making last-minute preparations to improve their scores and try to get a leg up in the college game. Unfortunately for most students, disorganized last-minute efforts usually have very little effect on their SAT scores. However, one SAT tutor is launching a new program which he claims will improve students' scores by over 200 points in under 30 days, and he's guaranteeing the results.
Renowned New York SAT tutor Anthony-James Green is launching his 30-Day SAT Crash Course on February 7th. The program, which is hosted entirely online, and which can be used without any additional tutoring or class work, walks students through 30 days of intensive SAT lessons which improve students' math, grammar, and reading comprehension skills, as well as enhance their familiarity with the SAT and with the tricks it employs to deceive students and hamper their efforts at improvement.
Green, founder of Teach Yourself the SAT and creator of The 90 Day SAT Prescription, is no stranger to raising students' SAT scores. After tutoring over 320 students 1-on-1, he boasts an average student score improvement of nearly 400 points, a number unheard of in the SAT industry. His new program is a distillation of his most powerful, most effective strategies, developed over years of experience raising SAT scores around the world.
"Not all SAT strategies are created equal," says Green of the methods used within his program. "There are countless tips and tricks which can improve students' scores, but after working with hundreds of students individually, and with thousands of students and their families through my firm, I've learned which ones work BEST. This program is an incredibly intense application of the most effective SAT strategies, tactics, and methods boiled down to a 30-day regimen which I guarantee will improve students' scores by at least 200+ points in 30 days."
Students and parents interested in learning more about the program can do so here:
http://www.teachyourselfthesat.com/30-day-preorder/
While the program doesn't launch until February 7th, Green is offering a $100 discount on the program (normally priced at $297.97) to anyone who pre-orders before the program's official launch. Additionally, anyone who pre-orders the program will be shipped The Official College Board SAT Manual and Barron's SAT, two books essential to the text, free of charge via 2-day mail.
While the word "guarantee" can be thrown around quite loosely in most sales situations, Green has applied the term to his program in the most literal sense possible.
"There's no red tape involved in this guarantee. If students try my program, and if they don't go up by 200 points or more in 30 days, then their parents simply have to send me an email and I'll refund their entire purchase. There's nothing more to it than that. I know that this program can improve students' scores by this many points in this little time because I've seen it happen hundreds of times before. These are the "last minute strategies" I apply to my most time-squeezed students to improve their scores as rapidly as possible. As much as I try to avoid last-minute SAT tutoring, it's still a very common situation, and I've spent years perfecting my methods for when I do have to deal with it."
Green, who charges $500 an hour for his 1-on-1 services and who is booked over 18 months in advance via his personal tutoring website, http://www.NewYorksBestSATtutor.com, has been publishing his SAT and college insights for years. In any effort to make these test prep and college insights more widely available, Green has launched a new site, http://www.TeachYourselfTheSAT.com, which exists solely to further distribute his free advice to students and parents around the country.
The site helps parents and students with their SATs, college admissions, and much more via the site's mailing list, to which tens of thousands of students and parents are subscribed. The site also promotes Green's long-term SAT program, The 90 Day SAT Prescription, which guarantees students a score improvement of at least 375 points over the course of the program. While Green recommends his long-term program to any students who aren't immediately pressed to take the SAT, for those taking the March SAT, Green views his new 30-Day SAT Crash Course as the best possible option.
"Long term SAT prep is always the most effective. However, a lot of people engage in last-minute SAT prep, and I've created this program to cater to that reality. There's simply no other program on the market that will come close to providing this level of score improvement in such a short period of time. I hope parents of students taking the March SAT will take me up on my $100 pre-order discount before the offer expires on the 7th."
Green has been called "the most recommended, most talked about SAT tutor in America," has been featured in hundreds of online and print news sources, and is the author of the new book, Test Prep for Parents. He has trained over 100 elite SAT tutors to use his methods, and his lesson plans are taught to thousands of students around the world.
Green lives between New York City and Los Angeles, where he splits his time between developing his SAT self-study plans and tutoring his students 1-on-1.
###