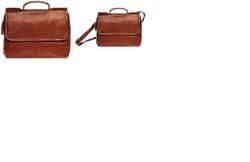 Visconti goods represent good quality leather bags that bring durability and style to suit everyone
Kent (PRWEB UK) 4 February 2013
This handy Visconti Atlantic business bag can be chosen to be worn over the shoulder or across the body depending on the wearer's taste or style. This soft leather bag has a button front flap for easy access while on the move, making it suitable for smaller, faster reachable items especially to the open front compartment. The next compartment in is zipped making it a good storing place for items that are more valuable like wallets or purses or even for the mobile phone which has a designated holder for it.
If anyone has ever had the pleasure of having leather furniture or leather seats in a car, then the sure proof is there that genuine soft leather holds up and wears well with time-actually looking great with years. The bag is made of soft leather making it a pleasure to handle while on the move and it is guaranteed to bring years of service to its lucky owner.
Visconti goods represent good quality leather bags that bring durability and style to suit everyone. Using premium leather always to manufacture and design bags that are practical, that never fall out of fashion and yet still affordable. Visconti's name comes with many years of top marketing and manufacturing in the leather goods industry.
Luggage Superstore's established site is in West Kingsdown, Kent. Their aim is providing competitive prices of the highest quality luggage and top calibre Customer Service for online luggage shopping. Luggage Superstore recommends Samsonite Suitcases.
Trina Chee-a-kwai
Luggage Superstore
01474854666
Email Information