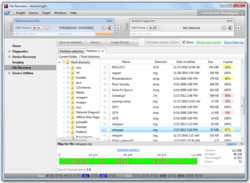 Atola Insight 3.0 particularly impresses when working with damaged hard disks.
(PRWEB) February 04, 2013
Atola Technology, the world's leading developer of hardware & software tools for HDD data recovery and computer forensics, has announced the official release of Atola Insight 3.0. This release contains over 200 new features and bug fixes. The largest improvement is the completely reworked and improved UI that allows running two different tasks for two hard drives simultaneously. There are also some other key features for data recovery and data capture in forensic and e-discovery cases:
* Excellent disk imaging speed up to 11 GB/min (real measured speed)
* High-performance data recovery from damaged hard drives
* Fully-automated in-depth diagnosis of any PATA/SATA hard drive
* Built-in case management system with detailed reporting
* Hash calculation: MD5, SHA1, SHA224, SHA256, SHA384, SHA512
* Write-protection for Source port
* Power control & short circuit protection
* Secure forensic data erasure methods support: DoD 5220.22-M, Security Erase, NIST 800-88, Pattern Erase
* Automatic ATA password removal
* File recovery for NTFS (all versions), HFS, HFS+, HFSX, ExFAT, FAT16, FAT32, Ext 2/3/4
Atola Insight 3.0 particularly impresses when working with damaged hard disks. It uses a special hardware unit, called DiskSense, which supports native SATA, timeout settings for reading operations, soft and hard resets, etc.
Finally, Atola Technology amends their warranty policy to offer lifetime warranty for Atola Insight and Atola Imager products.
For more information about Atola Insight 3.0, please visit Atola.com or contact the company.