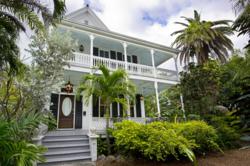 "As the luxury real estate market is recovering, homeowners are looking for innovative ways to market their properties and determine what a fair market value truly is, increasing the popularity of real estate auctions."
KEY WEST, Fla. (PRWEB) February 04, 2013
Buyers looking to own a piece of history and enjoy the Key West lifestyle can name their price on a classic Victorian four-bedroom estate with private guest house situated on a 14,000-square-foot lot. Ideally located within walking distance of numerous shopping, dining and entertainment destinations, the completely renovated home is part of a growing national trend of luxury properties being sold via auction or absolute auction. Grand Estates Auction Company will be offering this home at absolute auction on Wednesday, February 27th at 2:00 p.m.
Absolute auctions require no minimum bid or reserve price and are becoming increasingly popular with buyers and sellers of luxury real estate throughout the world due to their timeliness and transparency. There are no contingencies, no lengthy negotiations, and timelines for closing are already established. To help buyers make an informed purchase, a comprehensive due-diligence packet is available, and ample time is allotted for tours and inspections prior to the auction. Similar to rare artwork that does not have comparable pieces to set the value, exceptional properties such as this are well-suited for auction, where bidders set the market value.
"As the luxury real estate market is recovering, homeowners are looking for innovative ways to market their properties and determine what a fair market value truly is, increasing the popularity of real estate auctions," stated Stacy Kirk Reich, president of Charlotte-based Grand Estates Auction Company. "The owners are motivated sellers who understand that the live auction process provides fair market value in its purest and quickest form."
Completely renovated, the grand home features large rooms, high ceilings, French doors, double hung windows, and wrap around verandas overlooking a lush garden and swimming pool. Perfect for entertaining, this Key West jewel has 4 bedrooms and 4.5 baths in the main house, all decorated with European flair, and a 3 bedroom and 3 bath guest cottage with separate covered patio area, spa, and tropical gardens
The auction will start promptly at 2:00 p.m. on Wednesday, February 27th. Provisions for remote bidding can be arranged. The property will be available for prospective bidders to preview beginning Saturday, February 23rd, at 11:00 a.m., with preview times scheduled through the date of the auction. Buyers may contact Grand Estates Auction Company's auction information office to schedule an appointment during one of the preview times at 877-376-9560. A $100,000.00 certified check or personal check along with a bank letter of guarantee will be required to register to bid. Real estate agents and brokers are fully protected and encouraged to participate.
Grand Estates Auction Company is the leader in the niche market of auctioning luxury real estate, specializing in properties valued at $1.5 million and above throughout North America and the Caribbean. Established in 1999, the company was the first of its kind. The company is based in Charlotte, N.C. with offices in Atlanta, Naples, Fla., Aspen, Colo., and Vail, Colo. For more information and auction details visit http://www.GrandEstatesAuction.com.