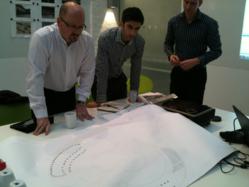 The quality of the output from our globally distributed teams was simply astonishing and is a clear reflection of the rapidly maturing collaborative design capabilities of the global AEC sector as a whole - Nathan Doughty, Asite COO.
London (PRWEB UK) 4 February 2013
Join George Mokhtar and Peter Barker (BIM Academy), Dave Monswhite (Turner and Townsend) and Nathan Doughty (Asite) on Wednesday February 6th, 2013 as they explain the wide ranging benefits of multidisciplinary and collaborative team working in a building information modelling (BIM) environment, including rapid design development, specification and export of data, construction simulation and the highs and lows of 5D cost modelling.
BIM Academy took the award for overall openBIM at Build Qatar Live 2012. The 48 hour competition brought together the best of the BIM practioners from 41 countries to demonstrate their BIM expertise and collaborate in OpenBIM for the design and engineering of the hypothetical Museum of Architecture in Doha, Qatar. Teams created fully developed 3D designs and rich data outputs for the museum development using a variety of BIM tools and applications including Asite's cBIM and collaborative cloud platform.
Awards were presented for the best use of BIM for design, drama and excitement, the best multi-disciplinary BIM and use of interoperability, the best use of BIM for technical assessment and for overall openBIM.
The session kicks off on Wednesday 6th February, at 5:30pm at Leeds Metropolitan University. Don't miss your chance to join a panel of experts and network with a community of BIM professionals by booking your tickets here.
Learn more about Build Qatar Live 2012 here.
Twitter: @asite @bimacademy @thinkBIM
About Asite
Asite helps businesses share information and build knowledge in a secure environment in the cloud. Every day, professionals all over the world use Asite to manage their projects and supply chains collaboratively and get the information they need – when and where they need it. http://www.asite.com
About ThinkBIM
The Leeds Met ThinkBIM Building Information Modelling group seeks to develop processes and tools that aid the solution and improvement of project delivery, collaborative working and the delivery of project objectives. http://www.ckehub.org/thinkbim